(APR 5) This week WBAN received an open letter from World Champion Laura Serrano, who has officially announced her retirement from the sport.
Letter from Laura:
Dear Sue,

I want to announce through your page that I am officially retired. The last week of February I got the good news (confirmed already) that my husband, Oscar Navarro and I are having a baby and of course we are very happy! I guess that was the only way for me to leave boxing, which has been my life, my passion and my priority for 19 years ( 14 years as a pro). I have lived the best experiences of my life in this great sport. I have met such wonderful people in boxing and I am really grateful for that.

I am also very proud of what I have accomplished, been not only the firs female Mexican holding a world championship in boxing but also the first Latin American female fighter, has been an honor. As a lawyer I had to fight against the authorities and I made women's boxing possible in Mexico City.

I became a world champion in my second professional bout well after my pro debut against Christy Martin.
You know that money (except for few exceptions) is not good for female fighters so the best thing that happened to me because of boxing was to meet Oscar, my husband, who I love so much because he is a wonderful man:
I leave boxing with such pain in my heart but also with honor and pride. I checked the ranks in February and I was proud of seen my name in the third position in my weight class only after Jeannine Garside and Ina Menzer. I was also proud of seen the ranking opponent list of Dee Williams, because I realized that among all the fighters around the world including the whole weight classes I had the highest score with 1940 points which means that I am the boxer who has faced the best level opponents with a winning average.

Sue, I thank you for your support during my career and I also want to thank every person who helped me in one way or another, specially the fans who are the most important people for us, the fighters and the reporters because without them nobody could know about us. I stop fighting but I will never leave entirely this wonderful sport.

MY PRO DEBUT
.- May 7 1994, MGM, Las Vegas, Nevada against Christy Martin (very controversial draw).
REMARKABLE RECORD
.- Become world champion in my second professional fight on April 20 1995 against Deirdre Gogarty.
THE TOUGHEST OPPONENT
:- Chevelle Hallback (the strongest fighter who I ever fought).
THE FRIENDLIEST OPPONENT
.- Kelsey Jeffries who nowadays is a good friend of mine.
THE BEST FRIENDS
.- Delia "chikita" Gonzàlez
Marianita "gorgeus" Almaguer
Brenda "the tiger" Burnside
THE BEST PROMOTER
.- Dan Goosen of America Presents.
THE BEST MANAGER
.- Greg Hanley (Las Vegas)
THE BEST TRAINERS
- Allie Krueger (Las Vegas) and Ignacio "Nacho" Beristàin.. (Mexico, City)
THE BEST CUT MAN
.- Gregorio Troche.(Las Vegas)
THE BEST REFEREES
.- Toby Gibson and Kenny Bayless.
THE BEST GYMS
.- Nuevo Jordàn (Mexico City)
Romanza (Mexico City)
Nevada Partners (Las Vegas)
THE BEST SUPPORT
.- In Las Vegas and all around USA.
THE MOST UNFAIR MOMENT
.- When I "lost" against Isa Girgrah because with that decision I lost my condition as undefeated fighter for more than nine years.
THE SADDEST DEFEAT
.- Against Jeannine Garside in Alberta, Canada.
THE MOST IMPORTANT FIGHT.
- Against Ina Menzer in Germany..
THE LONGEST LAY-OFF
.- Three years.
THE DREAM NEVER ACHIEVED
.- Fighting in Mexico City (ironic).
THE MORE VALUABLE
.- My husband , Oscar and my friends.
THE LAST MANAGER
.- Butch Gottlieb of Infinity Boxing, I thank him and Mary Ann Owen for their support.
THE GREAT CHAMPIONS WHO I DID SPARRING WITH
.- Julio Cèsar Chàvez, Marco Antonio Barrera, Miguel Angel Gonzàlez, Jorge "maromero" Pàez, Juan Manuel Màrquez, Floyd Mayweather jr., Wayne McCullough, Kevin Kelley, Jessica Rakoczy, Elena Reid, Marischa Shaw, Bridgett Riley, Brenda "tiger" Burnside, Delia "chikita" Gonzàlez among others. Thanks a lot for your support to all of these great champions.
And I thank God for giving me the opportunity to choose boxing or for giving boxing the opportunity to choose me, I thank him also for allow me to retire completely healthy, actually I fought my last fight against Menzer with great physical condition, with speed and good reflexes; according to Ina`s opinion, in that fight I was like good wines , better with age (I am proudly 40 years old).

I am now a boxing Commissioner in Mexico City and I continue fighting for the rights of Mexican female fighters and also for the good of male fighters.

If any one wants to contact me for help or advice, I can be reach in this e mail, laura_serrano1967@yahoo.com.mx .
Once you are touch for this wonderful sport, you fall in love with it forever and ever.

Laura Serrano García " the poet of the ring "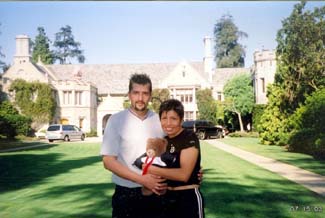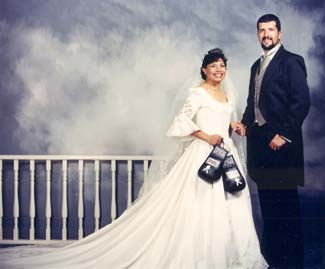 WBAN congratulations Laura on her news about she and her husband expecting a baby. And that sport will miss her strong presence in the ring, but that she can do so much for women's boxing outside the ring. We need world champions like Laura to be highly involved.