(APR 14) Super Lightweight Sarah Pucek looked far from a young fighter making her pro debut when she faced Theresa Doerksen, also making her pro debut, in a four round bout Saturday night at the Emerald Queen Casino in Tacoma, Washington. Pucek stepped to the middle of the ring at the opening bell, held her hands in front of her and threw straight left jabs at Doerksen. When Doerksen moved away from the jab, Pucek slid with her, keeping her in range and again throwing the jab.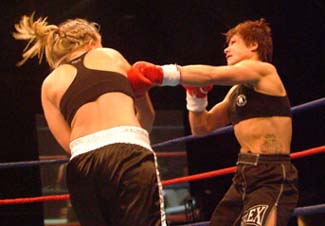 Doerksen tried to answer with a left of her own, but it did not carry the snap to catch the quicker Pucek. In the opening minute of the first round Pucek landed her jab seemingly at will, while Doerksen had to be content to sneak one or two punches past Pucek's defense.

At the midpoint of the first round, once Pucek had made Doerksen weary of the sting of the jab, Pucek faked a left and threw a right hand that landed flush on Doerksen's head. Doerksen dropped to the mat as Pucek stepped to a neutral corner to reload. Doerksen stood to beat the count and the referee allowed the fight to continue.

As the round drew to a close Pucek again threw a quick and powerful right hand. Again Doerksen dropped to the mat, but this time, though she would get up, the referee would wave an end to the fight. Doerksen pleaded her case, trying to convince the referee she was fine, but her wobbly legs betrayed her.

Sarah Pucek would score the TKO win at 2:02 of the opening round.