Australian super bantamweight champion Susie 'Q' Ramadan 123¾ (4-0-2KO) has shone a light on women's boxing in Australia after years of relative darkness.
The southern and most heavily populated states in the country have been the slowest to accept women's boxing and Australia as a whole has been reluctant to back it. The few standout females like the current WBC champion Sharon Anyos – a lone and determined figure, former Commonwealth bantamweight champion Amanda Buchanan as well as Holly Ferneley, Songul Oruc, Rain Mako and Laura Skinner have battled apathy and scant opportunity as they've tried to forge a career in the sport. Now all but Anyos, who recently gave birth to twin boys, have retired without apparent successors. Western Australia's Erin McGowan is still relatively unknown in the east.
New South Wales is still the only place in the world where boxing is banned for women. The recent Australia Amateur titles were held in that state but the women's competition was forced to move to Victoria and hold a separate comp because of the discriminatory law.
Even cable broadcaster Fox Sport, the only outlet that screens local boxing, has also done it's best to try and kill the sport with indiscriminate blackouts over the years.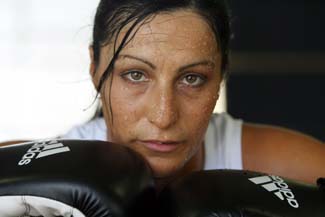 But Ramadan, 28, has even managed to turn Fox Sport around. The broadcaster had claimed that women's bouts attracted too many complaints and it became known that they would not screen Ramadan's Australian super bantamweight championship bout against Edith Smith in July. There were so many objections that Fox was forced to change its decision.

And what viewers saw was a highly skilled boxer, whose abilities would have been impressive no matter what her gender. She showed a range of accurate punches that met their mark on the slower, older and less capable Smith, as well as an iron tight defence and an ability to work angles and play with small increments of distance. Ramadan could deliver her volleys and get out of the way of possibly counters and be ready to go to work again. After such a short time in the sport, the improvement from bout to bout has been remarkable. And if the rate of progress continues at the current pace it won't be long before Ramadan starts thinking about challenging some of the top international fighters in her division. The tyranny of distance then will become her greatest obstacle.

Ramadan decided to miss out on a chance to win an Australian Amateur championship last year after only seven fights when she turned professional in December, beating Ploysuay Sakrungruang by unanimous decision. She has so far won all 4 bouts in impressive fashion. The scarcity of local competitors means promoter Murray Thompson has been forced to fly opponents in from Thailand. With the exception of Smith, possibly the only female boxing veteran in Australia, all Ramadan's pro opponents have been imported.

Her next opponent, on August 22, is 18-year-old novice Kwanpirom Muangroi-ed from Rio-et in Thailand.

Ramadan, an ambitious athlete, will be forced sooner or later to ply her trade out of the country to get the challenges she needs to reach the highest levels.
Among her admirers is Contender star and Australian boxer Sam Soliman.

"Sam said he has seen plenty of women fight, but none have the got the punches like she has," Ramadan's trainer Con Brizzi said. "He said she would be great in America."