(SEPT 30) On Saturday September 27th, 2008 at the Powerade Centre in Brampton, Ontario, Canada the Main Event of the evening saw Sandy "Lil Tyson" Tsagouris (8-1, 3 KO's) of Toronto faced off against Paraguay's Maria Jose Nunez (9-5, 7 KO's) for the N.A.B.A. Featherweight championship. The winner of this bout would secure a World title shot for 2009 so the stakes were high for both women.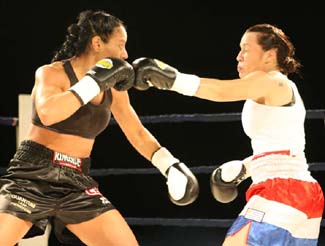 Tsagouris came out in round one aggressively throwing accurate combinations and broke down Nunez's defense early. To counter this, Nunez would back up trying to counterpunch Tsagouris as best she could but it was to no avail. Round two saw much of the same as Tsagouris was able to land big right hands behind an accurate jab but a very game Nunez held in there and exchanged with Sandy as best she could.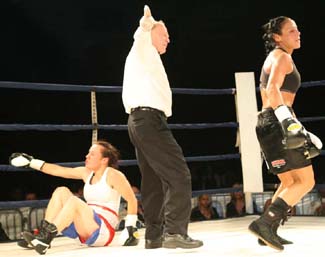 By the midway point of round three Nunez was finally dropped by a Tsagouris right hand. Nunez was up by a 5 count and was able to hang in there to finish the round. The effects of Tsagouris' combinations were showing as Nunez was overwhelmed by short accurate punches and was once again dropped by a right hand early in round 4. Nunez was once again able to get up and continue but was dropped by a left hook near the midpoint of the round. Nunez beat the count but was very unsteady on her feet.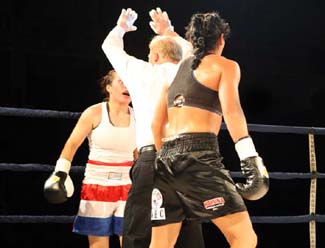 Tsagouris saw the opening to finish the fight and pinned Nunez on the ropes where she landed a half dozen unanswered punches before the referee stepped in stopping the bout at 1:24 mark. With the victory Tsagouris moves to 9-1, 4 KO's and is now the Canadian Super Featherweight champion and the N.A.B.A. Featherweight champion. The victory also secured a World title shot in 2009.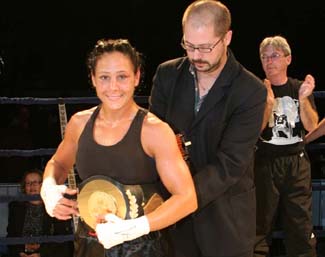 Nunez deserves credit for coming into Toronto as an underdog for this match. She could have stayed down early on and collected her pay and nobody would have thought any less of her but instead she kept getting up and fought her heart out. She just was unable to match Tsagouris' superior skills but the willpower was definitely there. Nunez stated that she wants to fight more often in North America and Europe because there is more opportunity and the skill level is much higher than in South America.

I was able to interview Sandy Tsagouris who was the Toronto Sun's Sunshine Girl for September 27th about her plans for the end of 2008 and what 2009 holds in store. Tsagouris is now a member of Jimmy Burchfield's promotional company CES (Classic Entertainment and Sports) which is based out of Rhode Island. Tsagouris' manager Billy Martin stated that they are in the final stages of signing a 3 year contract with CES. The CES team also includes fellow Canadian and World Champion Jaime "The Hurricane" Clampitt. Tsagouris is obviously very excited about this opportunity!

Tsagouris also mentioned what a great experience it was to fight in Germany against Ina Menzer and would someday like to travel back to Europe to fight for that World title.

Tsagouris told me that her short term goals are to get a couple more fights in before her World title match. I asked if she would be willing to move up or down in weight if a big opportunity came her way and Sandy explained that she is comfortable at her current weight and there are still women in her division that she wants to face but in the future there is a possibility of moving up or down in weight if the right opportunity is presented.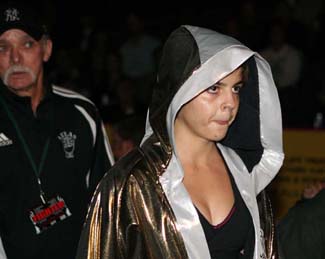 The opening bout of the evening was a four-round featherweight contest between two Toronto based fighters, Bernadette Hume (0-1) and Priscilla Trompowsky who was making her pro debut.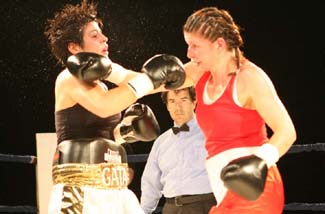 The bout was action packed with both fighters landing hard combinations during all four rounds. However Trompowsky was able to land more effective punches than Hume throughout the fight. The judges scored it 40-36, 39-37 and 39-37 giving Trompowsky the unanimous decision win. The victory moves Trompowsky to 1-0 while Hume slips to 0-2.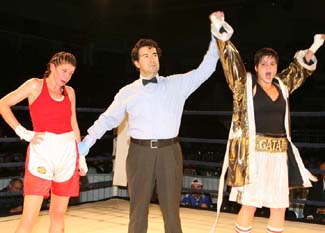 Credit should also be given to the promoters who joined together to host the event: Stele Promotions, Title Fight Promotions and Buxton Promotions. All three promotional companies try their very best to put on entertaining events and are stanch supporters of women's boxing.