(NOV 18) On Sunday, November 16th, Serdar Karaca
(Rayong-Gym Heidenheim/Germany) presented the Dodge Trophy Final 2008, a top class Thai boxing gala. The event took place in a shopping centre in Ulm, Germany.
As already in last year's event, along with the Thai Boxers, two professional female boxers competed.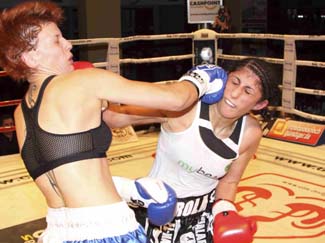 Lightweight Rola El Halabi (6-0-0, KOs 3) faced the experienced kickboxer Eva Santa Halasi from Serbia, who made her professional debut as a boxer. El Halabi, clearly the better boxer, dominated the fight but had problems to find the distance and missed a couple of times and hit the air. In the fifth round, El Halabi landed a crushing right hook and Halasi was brutally knocked out. She remained unconscious on the canvas for long, worrying minutes until she managed to get up again.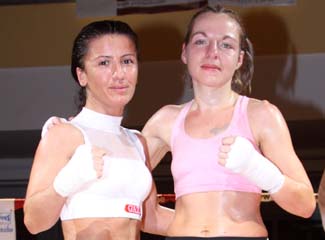 The second fight of the evening featured Özlem "Sugar" Sahin and Janina Bentz (0-1-0). Light flyweight Sahin (6-0-0, KOs 3), who is actually a minimum weight, fought her first six round match and went the full distance. Sahin dominated the middle of the ring but her opponent was tireless and attacked her time and again.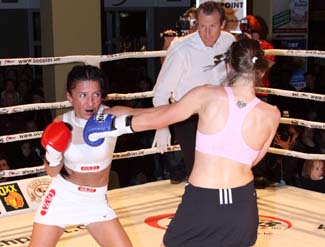 Although several times in round two and three it seemed that her legs were about to give way Bentz persevered. Sahin again showed an impressive performance and the fight was clearly decided in her favour. But since no delegate of the German boxing association was present, the match was ruled a non-contest. Besides, Bentz was 7.83 pounds over the limit.