(DEC 7) The boxing fans in Halle and the viewers at ProSieben were treated to an excellent boxing match from world champion Susi Kentikan and challenger Anastasia Toktaulova. Both boxers are known as technically, well-rounded, plenty of fighting heart, which was evident on Friday night in Halle. The two knew each other from sparring, and had made good use of past experience in their game plans.

Kentikian usually tears into her opponents from the first bell, but she made a fairly slow start against Toktaulova. She controlled the centre of the ring, and only displayed some of her fireworks in the last third of the round.

Toktaulova used her footwork to keep herself out of harms way, and was also able to make her mark with some telling punches. The picture repeated itself in the following rounds.

Toktaulova succeeded in keeping Kentikian at bay, using her reach advantage, but suffered when Kentikian managed to get in close, and throw her combinations.

The pace went up in Round five, when the challenger came forward right from the start. She succeeded in catching Kentikian with some good right hands, but Kentikian tended to get through with one or two more punches than Toktaulova in the close up exchanges that ensued later in the round.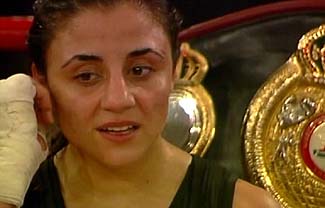 Kentikian increased the pressure over the next four rounds - no doubt chasing the knock out she had predicted - but the Russian refused to let herself be intimidated by the aggressive 10 year younger world champion. Toktaulova took the some hard punches, but kept fighting back, and used her experience and ring craft to stay in the fight. The 10th round was a toe to toe battle, in which Kentikian showed why she is the world champion, displaying her punching repertoire, speed and not least her fighting heart.

This was also reflected in the scores of 98-92, 98-92 and 99-91 in favour of the reigning WBA-WIBF world champion who won by a unanimous decision.

Both boxers deserve praise for showing a top quality fight. Kentikian proved, that she is more that a KO queen, and that she can also deal with an experienced and well skilled opponent. Toktaulova came well prepared and top fit as always, and she kept fighting for her chance until the final bell.

Excerpts of fight