(DEC 21) The busy Kenyan season culminated with yet another outrageous title decision at the packed Charter Hall on Sunday with close to 2,000 fans trudging home crestfallen. In what appeared a one-sided affair, Kenyan Fatuma Zarika was shockingly announced as the winner by a unanimous decision much to the chagrin of Kenyan spectators who instead voiced their dissent by hoisting America based Puerto Rican Belinda Laracuente.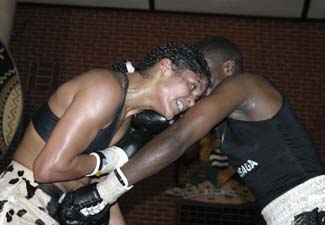 Laracuente was carried shoulder high as chants of USA…USA..rent the air even as the belt was being presented on a farce-like low key affair.

Zarika hardly scored against the graceful and flashy Puerto Rican and her attempt to go for her traditional volatile kayo was easily smothered by a weaving and bobbing Laracuente.

Zarika made her intensions clear with her first shot at Laracuente, a vicious right hook that the Puerto Rican dogged. A second round Zarika onslaught fell on Laracuente guard as frustration mounted for the Kenyan when she picked up a deep on her left eyebrow, from a Laracuente hook. By the 8th of the 10 round scheduled contest Laracuente was leading by insurmountable margins and it's was clearly noticeable that only a kayo could salvage Zarika's fortunes.
Laracuente's onslaught started on a somewhat modest pace sizing her opponent and handing Zarika a few lessons in shadow boxing. She bobbed and weaved gracefully and even taunted Zarika with funny facial expressions darling Zarika to come out to her. But from the 5th Laracuente took charge of the proceeding picking Zarika easily with the left hook and some crisp, clean jabs. Come the 9th it was clear who would be victorious and the Kenyan fans went mute for a while.

It was the second time lucky for Zarika after a similar situation was witness in a fight she was outplayed by Bulgarian Galina Koleva Ivanova but the Kenya Professional Boxing Commission judges scored otherwise.
Earlier former Africa Champion Nasser 'Silencer' Athumani gunned down American Kopmpa Koroma on split points and no eyebrows were raised when he was crowned the GBU world Champion. But it also beat the logic why a world title fight was entirely officiated by an all-Kenyan judges panel including referee Shaaban Ogola.

Apparently, Belinda Laracuente didn't looked so much faced by the decision, and was instead basking in the overwhelming support the fans. A stunned Laracuente Coach Wanda Bruce could not hide her shock but the quick reaction of the boxing fans who noisily protested decision brought a little solace to the American team.
"I really don't understand what fight the judges were watching. I was celebrating my win after the last gong but to my surprise the announcer announced a unanimous decision.
The Kenyan fans obviously know more than their judges and I appreciate the huge support I got from the Kenyan fans after the decisions were announced," Belinda Laracuente charged. Laracuente, the former, GBU lightweight champion was awaiting a moment of her lifetime but not until results came out in a flash. Judge Lillian Olero had it 97-96 while Wycliffe Marende saw it 97-95. James Omondi had it 97-94 to hand a dazed Zarika victory on a silver platter.