Equality for Female Boxers in the Olympics
WBAN PETITION
Home Page
Search WBAN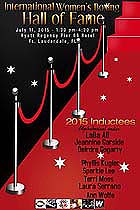 IWBHF Hall of Fame Ceremony, July 11, 2015
For Full Details!
Latest News-Women
Biography- Sue TL Fox
Latest Rankings
Boxer's Profiles
Fight Results
Upcoming Events
Knockouts!
Past/Present Ratings
Fight Photo Gallery
Boxing Trivia
Tiger Tales by Fox
Amateur Scene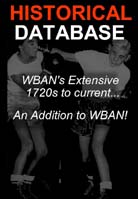 Boxers Websites
Women Cops who Box
Exclusive Interviews
Bust a Fighter!
Mixed Matches
Mismatches
About WBAN
Advertise on WBAN
Other Links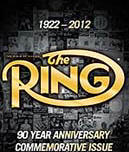 Sue Fox Named in the "Top Ten" Most -Significant Female Boxers of All Time - Ring Magazine - Feb. 2012
HISTORY OF
WOMEN'S BOXING
Historical -All links
Historical Events
History Firsts
Flash from the Past
Past Boxer Profiles
70'S/80'S Past Boxers
Pre-70'S Boxers
Past Amateur Boxers
About Sue TL Fox
Video streaming, over
11, 500 photos, and more!

Matchmaker's Hot List - Exclusive Matchup!

Hot Hot HOT Photo Galleries!Flash Photo Slideshows!

Boxing Records for women boxers..archived records!
FREE WORLDWIDE
CONTACT LISTING!
This is perfect for Promoters, Matchmakers, Managers, Matchmakers, Trainers, Boxers, etc.


To Sign Up!
Having Problems
with the website?
Send an Email
Directly to WBAN!





3rd Annual John Bray Free Youth Boxing Clinic
March 20, 2010


(MAR 20) The John Bray Boxing Foundation is holding the 3rd Annual John Bray Free Youth Boxing Clinic in an effort to continue to help the community in preventing and combating gang violence while promoting discipline and academic success among school-age students. For the second consecutive year, the John Bray Boxing Foundation has teamed up with the LAPD Foothill Jeopardy Program, which is a program within the LAPD's juvenile division that targets children "at risk" of becoming involved in gang activity and offers them a variety of educational and physical projects from tutoring to boxing.

Both non-profits have arranged this Free Youth Boxing Clinic because of the issues with kids that are of crucial importance to the community. Children and young adults face many temptations everyday, whether it is drugs, gangs or peer pressure. The John Bray Boxing Foundation and Foothill Jeopardy Program want to provide these promising young men and women with an alternative where they can feel at home and escape the pressures they have to deal with on a daily basis. Although it is considered a boxing clinic, these young kids will also listen to inspirational speakers, and learn about nutrition, life skills and attitude development!

Every one of all ages is welcome. We have arranged special guest appearances by former world champions Gabriel and Rafael Ruelas, former Contender TV Series Star and current WBC CABOFE middleweight champion Miguel Espino, former IBF world junior middleweight champion Paul Vaden, former middleweight contender Alex "the Bronx Bomber" Ramos, former welterweight contender Randy Shields, former heavyweight contender Alex Garcia, referee Jack Reiss, former heavyweight contender and trainer Justin Fortune, former heavyweight contender Macka Foley, 1984 Olympic heavyweight gold medalist Henry Tillman, 1984 Olympic flyweight gold medalist Paul Gonzales, former heavyweight contender Jeremy Williams, and top trainer and cut man David Martinez.

The 3rd Annual John Bray Free Youth Boxing Clinic is scheduled to take place on Saturday, March 27, 2010 from 10:00 a.m.-1:30 p.m. The event will take place at the LAPD Foothill Jeopardy Facility located at 11844 Glenoaks Boulevard in San Fernando, California.

We would like to graciously thank the following sponsors for making this event a reality: Everlast Worldwide Inc., Glaceau Vitamin Water, Powerade, Convicted Artists, Visual Impact Stunt Equipment Company and the International Stunt Association.

For additional information regarding this event and/or on the John Bray Boxing Foundation, please visit johnbrayboxingfoundation.org or contact Jerry Gonzalez at (559) 643-9313.