(MAR 30) In an event without precedent in Mexico, and most likely the world, Ana Maria Torres, WBC super flyweight champion, and her contender Maria Andrea Miranda are ready to fight.

With the scale installed at the deck of a Luxurious Yacht, and having Cabo's famous arc as witness, Ana Maria, her contender and the rest of the main bouts made the official weight and declared themselves ready to star "Los Cabos on Fire", the card is presented by Hector Garcia's HG Boxing.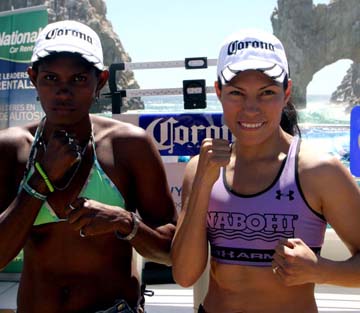 The first ones to go on the scale were the fighters of the main event that will be televised on Televisa's "Sabados de Corona", Ana María and Maria Andrea, who stopped the scale at the limit of 115lb, both at the first try, and now they are in condition to give a spectacular show.

"I know I will fight a hungry opponent, that wants the glory of takint the title that I hold, but she doesn't know what awaits her in the ring", Ana Maria Torres declared, who stated that she will dedicate this fight to her fans at Cabo with a spectacular KO, in which would be her eleventh defense of her title.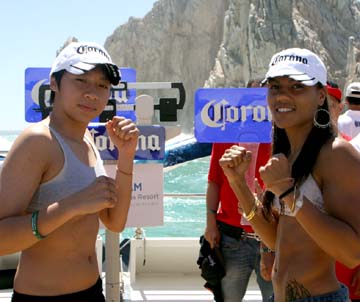 "I know I am not the favorite to win, as I am at my the champions home, but I am prepared to win and surprise everyone", the South American responded to the press' questions, and said that she will take the green and gold of the WBC to her hometown, as she will be fighting at her natural weight.

San Francisco's own Ava Knight will make her first defense of her flyweight IBF title facing #1 Hongfah Tor Buamas from Thailand. Both fighters made weight under the limit of 111 lbs. Ava Knight will be looking to impress the Mexican fans and gain the attention of the top contenders at 112 lb.