(COLORADO SPRINGS, COLO) – Team USA enjoyed a perfect start to the 2012 Women's Continental Championships on Wednesday at the NAV Centre in Cornwall, Ontario, Canada. The U.S. squad won all five bouts on the evening, winning contests from the light flyweight to light heavyweight divisions on day one of the international tournament.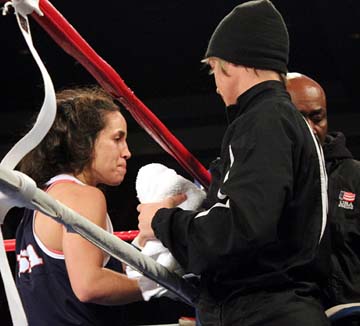 Photo: Alex Love
Light flyweight Alex Love (Monroe, Wash.) got the team off to a winning start in her semifinal bout with Canada's Kim Klavel. Love mounted a comeback in the final round to win a 24-21 decision and move on to Saturday's finals.

In bantamweight action, Christina Cruz (New York, N.Y.) defeated a hometown foe as well, taking a 12-6 decision over Canada's Vicky Pelletier. Cruz's quarterfinal win moves her on to Friday's semifinal action.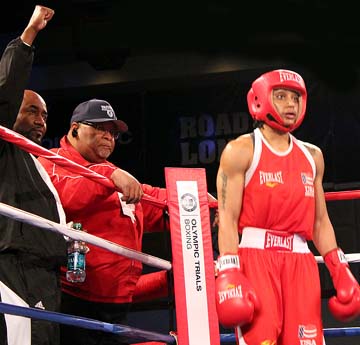 Photo: Queen Underwood
Lightweight Queen Underwood (Seattle, Wash.) pulled out a 12-11 victory over Mexico's Erika Cruz in their first round showdown. Underwood enjoyed a late comeback as well to take the one-point decision. Underwood was the only U.S. boxer in an Olympic weight class to box on Wednesday and will return to the ring for quarterfinal competition on Thursday.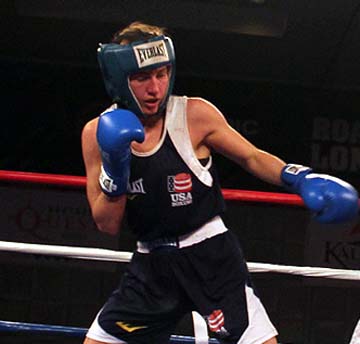 Photo: Mikaela Mayer
Mikaela Mayer (Los Angeles, Calif.) won the most convincing decision of the day for Team USA, defeating Canada's Melissa Redmond, 18-6. Mayer's semifinal win earns her a berth in Saturday's light welterweight semifinal contest.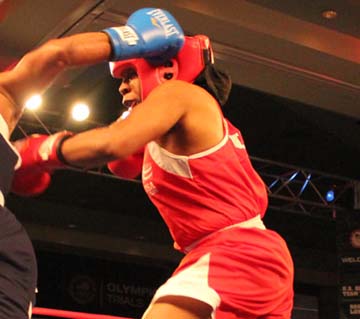 Light heavyweight Franchon Crews (Baltimore, Md.) won the final bout of the day for her United States team. Crews claimed a 17-12 win over Andrela Bandeira of Brazil in their semifinal match-up. She joins Love and Mayer in the finals with her opening day win.

Underwood will join flyweight Marlen Esparza (Houston, Texas) and featherweight Tiara Brown (Lehigh Acres, Fla.) in Thursday's action as Esparza and Brown face Pemela Benavidez of Argentina and Edelme Jeffrey of Saint Lucia respectively. Underwood will battle 2011 Pan American Games bronze medalist Sandra Bizier of Canada in her second bout of the tournament. Welterweight Raquel Miller (San Francisco, Calif.) will be the third U.S. boxer to box on Thursday, taking on Myriam de Silva of Canada in semifinal competition.

The 2012 Women's Continental Championships can be viewed via livestream at gfl.tv for a small fee.


Wednesday's U.S. Results

108 lbs: Alex Love, Monroe, Wash./USA, dec. Kim Klavel, CAN, 24-21

119 lbs: Christina Cruz, New York, N.Y./USA dec. Vicky Pelletier, CAN, 12-6

132 lbs: Queen Underwood, Seattle, Wash./USA dec. Erika Cruz, MEX, 12-11

141 lbs: Mikaela Mayer, Los Angeles, Calif./USA dec. Melissa Redmond, CAN, 18-6

178 lbs: Franchon Crews, Baltimore, Md./USA dec. Andrela Bandeira, BRA, 17-12


USA Boxing, as the national governing body for Olympic-style boxing, is the United States' member organization of the International Amateur Boxing Association (AIBA) and a member of the United States Olympic Committee (USOC).