(APR 7) (COLORADO SPRINGS, COLO) Ė A trio of U.S. women moved on to the finals of the 2012 Womenís Continentals Championships with semifinal wins on Friday at the NAV Centre in Cornwall, Ontario, Canada. Flyweight Marlen Esparza (Houston, Texas), featherweight Tiara Brown (Lehigh Acres, Fla.) and middleweight Claressa Shields (Flint, Mich.) each enjoyed wins on Friday while bantamweight Christina Cruz (New York, N.Y.) lost her semifinal bout.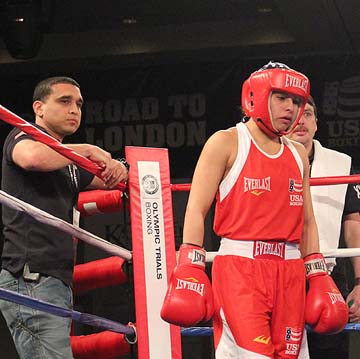 Photo of Marlen Esparza Photo Credit: Sue TL Fox
For the second straight day, Esparza led off the competition for her United States team as she faced off with 2011 Pan American Games champion Mandy Bujold of Canada. Their semifinal showdown was close throughout, but Esparza took an 11-8 lead into the final round of boxing. She held off Bujoldís comeback efforts in the final round to win a 16-14 final decision and move on to a finals night contest with Brazilís Erica Matos.

Brown won her second straight bout of the tournament as well, defeating Melissa Esquivel of Mexico. Brown took a 10-5 lead at the halfway mark of the semifinal contest, but she didnít sit on her lead. Brown continued to add to her advantage over the final two rounds and went to win a 22-9 final decision. She will look for her third victory of the event in Saturdayís finals as she faces Leonela Sanchez of Argentina.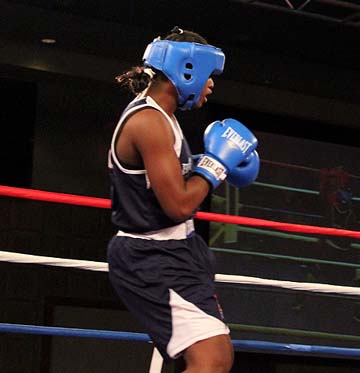 Photo of Claressa Shields Photo Credit: Sue TL Fox
Shields made her highly anticipated tournament debut on Friday in a middleweight contest with 2010 light heavyweight World Champion Roseli Feitosa of Brazil. The 17-year Olympic Trials champion didnít disappoint in her first senior international bout. She jumped out to an early lead, taking a 7-3 edge after one. She kept the heat on in the second, giving Feitosa a standing eight count before taking a 13-6 advantage into the second half of the bout. Her onslaught continued over the final four minutes as Shields won a 29-11 decision. She will face another stiff challenge in the finals, battling three-time world champion Mary Spencer of host nation Canada.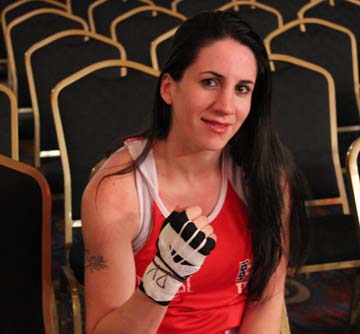 Photo of Christina Cruz Photo Credit: Sue TL Fox
Christina Cruz kept her bout with Brazilís Clelia Costa close through all four rounds of the bout couldnít overcome Costaís slim lead. She lost an 18-14 final decision to Costa to take a bronze medal.

Team USA has seven boxers in Saturdayís finals with light flyweight Alex Love (Monroe, Wash.), light welterweight Mikaela Mayer (Los Angeles, Calif.), light heavyweight Franchon Crews (Baltimore, Md.) and heavyweight Victoria Perez (Ventura, Calif.) joining Esparza, Brown and Shields on championship night.

Team USA is being led by coaches Israel Acosta (Milwaukee, Wis.), Gloria Peek (Norfolk, Va.), Bruce Kawano (Pearl City, Hawaii) and Team Manager Joe Smith (Chattanooga, Tenn.). Dr. Ted Mills (Glen Cove, N.Y.) is working as the Team Physician with Patricia Pliner (Janesville, Wis.) joining the squad as the AIBA official.

The 2012 Women's Continental Championships can be viewed via livestream at gfl.tv for a cost of $9.99.


Thursday U.S. Results
112 lbs: Marlen Esparza, Houston, Texas/USA dec. Mandy Bujold, CAN, 16-14

119 lbs: Clelia Costa, BRA, dec. Christina Cruz, New York, N.Y./USA, 18-14

125 lbs: Tiara Brown, Lehigh Acres, Fla./USA dec. Melissa Esquivel, MEX, 22-9

165 lbs: Claressa Shields, Flint, Mich./USA dec. Roseli Feitosa, BRA, 29-11