(MAY 16) Areti Mastrodouka is back in action on May 20,. 2012, in the United Kingdom, looking for her second win after her successful professional debut on March 4th against Kristine Shergold.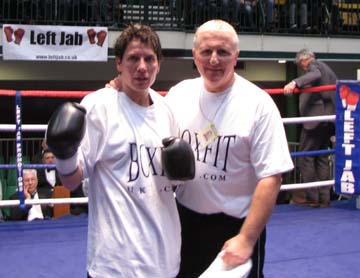 Areti Mastrodouka poses with trainer Alex Wilkey
After her fight against Kristine Shergold
Returning to the York Hall in Bethnal Green, London, the female fighter from Athens in Greece has been back training in London in preparation for her second bout against Julija Cvetkova from Latvia.
Training at the TKO gym in Canning Town with trainer Alec Wilkey and manager Jonny Eames has gone to plan and Areti, nicknamed 'The Master,' is hoping to triumph in the 6 round bout on the Miranda Carter show. Also fighting on the card is Danny 'Cassius' Connor who fights for the British Masters Welterweight title against Tyler Goodjohn in a 10 round bout. Doors open at 2pm with the boxing commencing at 3pm and tickets are priced at £35. To purchase call Alec on 07944791360.