Equality for Female Boxers in the Olympics
WBAN PETITION
Home Page
Search WBAN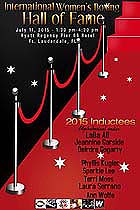 IWBHF Hall of Fame Ceremony, July 11, 2015
For Full Details!
Latest News-Women
Biography- Sue TL Fox
Latest Rankings
Boxer's Profiles
Fight Results
Upcoming Events
Knockouts!
Past/Present Ratings
Fight Photo Gallery
Boxing Trivia
Tiger Tales by Fox
Amateur Scene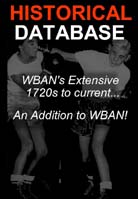 Boxers Websites
Women Cops who Box
Exclusive Interviews
Bust a Fighter!
Mixed Matches
Mismatches
About WBAN
Advertise on WBAN
Other Links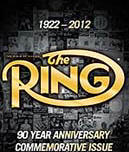 Sue Fox Named in the "Top Ten" Most -Significant Female Boxers of All Time - Ring Magazine - Feb. 2012
HISTORY OF
WOMEN'S BOXING
Historical -All links
Historical Events
History Firsts
Flash from the Past
Past Boxer Profiles
70'S/80'S Past Boxers
Pre-70'S Boxers
Past Amateur Boxers
About Sue TL Fox
Video streaming, over
11, 500 photos, and more!

Matchmaker's Hot List - Exclusive Matchup!

Hot Hot HOT Photo Galleries!Flash Photo Slideshows!

Boxing Records for women boxers..archived records!
FREE WORLDWIDE
CONTACT LISTING!
This is perfect for Promoters, Matchmakers, Managers, Matchmakers, Trainers, Boxers, etc.


To Sign Up!
Having Problems
with the website?
Send an Email
Directly to WBAN!
Four New Assistant Coaches Named to 2012 U.S. Olympic Boxing Staff
by Julie Goldsticker
of USA Boxing
July 6, 2012
Photo: Sue Jaye Johnson

| | |
| --- | --- |
| | |

(JULY 6) (COLORADO SPRINGS, COLO.) – Four new assistant coaches have been nominated to the United States Olympic Committee to join Head Coach Basheer Abdullah (Colorado Springs, Colo.) at the 2012 Olympic Games. The four assistant coaches who will complete the Olympic staff are: Anthony Chase (Marietta, Ga.), Christy Halbert (Nashville, Tenn.), Charles Leverette (Fountain, Colo.) and Gloria Peek (Norfolk, Va.).

1996 Olympic Head Coach and 2004 Olympic Technical Advisor Al Mitchell (Marquette, Mich.) will reprise his 2004 role in London with fellow 1996 Olympic Coach Jesse Ravelo serving as a trainer for the Olympic Games training camps.

Chase has been involved in the sport for 20 years, and began coaching in 1995 as an assistant with the All-Navy Boxing Team. He has served as a coach for several local and national events and joined the U.S. team at the European Challenge in 2010. Most recently, he participated in the first-ever U.S. Olympic Team Trials for Women's Boxing as a personal coach for a flyweight participant.

Halbert has been instrumental in the women's program over the last decade, and served as the Head Coach for the U.S. squad at the first-ever Women's World Championships in 2001. She worked closely with AIBA to aide in the Olympic inclusion process, and has coached at numerous major international events for both the United States and AIBA's developmental program over the past several years. In addition, she received the prestigious Olympic Torch award from the United States Olympic Committee for her contributions to women's boxing and the Olympic movement.

Leverette currently serves as the Head Coach for the Army's World Class Athlete Program and has participated in several key international events over the past two years. A former heavyweight boxer, Leverette served as an assistant coach at the 2012 Women's World Championships, where the U.S. team won five medals and qualified two spots at the Olympic Games. In addition, the Alabama native served on the U.S. coaching staff at the 2011 Pan American Games in Guadalajara, Mexico.

Peek has been coaching amateur boxing for over 30 years and currently works as the Head Coach for the Norfolk Boxing Club. She has been coaching at international events for nearly 20 years in both the men's and women's divisions. The long-time trainer got her first taste of the Olympic preparation during the 2004 Olympic Games training camp, and has coached at several international events since that time, including the 2012 Women's World Championships and 2011 Pan American Games.

Due to AIBA regulations, USA Boxing was required to make changes to the U.S. Olympic Games Coaching staff that will be nominated to the United States Olympic Committee. As Candelario Lopez (San Jose, Calif.) was not previously registered with AIBA, the international federation for Olympic-style boxing, he was not approved to serve as an assistant coach for the Olympic Games by AIBA. Previously named assistant coach Israel Acosta (Milwaukee, Wis.) has chosen not to accept his nomination to the Olympic Games staff. Olympic veteran Basheer Abdullah (Fort Carson, Colo.) will remain in the Head Coach position for the 2012 Olympic Games and Delilah Ponce Rico will serve in the role of Olympic Team Manager.

The Olympic coaching staff is currently working with the athletes at the U.S. Olympic Training Center in Colorado Springs to prepare for the upcoming event, and the athletes in attendance are thriving under their tutelage. The squad will depart for England on July 14 for final preparations. All staff nominations are pending approval from the United States Olympic Committee Board of Directors.