(AUG 15) Mia St. John has literally gone full circle in this sport. She has a long history of the good, the bad, and the ugly, of what women's boxing has brought to this sport. In her early years as a boxer, St. John was criticized at times for opponents she was up against when she fought under the tutelage of promoter Bob Arum.
Early years in the sport on a De La Hoya Card....
But through it all ....St John has stuck to her game plan, and has ultimately succeeded in what she has wanted to do in the sport. One of her goals was to fight Christy Martin. St. John did not only fight Martin once----but twice now, defeating the "Coal Miner's Daughter" in their second outing.
First Fight with Christy Martin in December 2002
When St. John first fought Martin in December of 2002, WBAN's correspondent Brian Ackley spoke with Mia about her fight. Ackley wrote the following:
"Mia St. John can laugh, now, about the dressing room scene moments before stepping into the ring against Christy Martin. She was, in her own words, very scared. But not so much as her mother, who like her boxing daughter, was decked out in always-present pink. She had worked her daughterís corner for many fights -- and seen her daughter scared before. But everyone in the room knew that tonight was different. Mia's mother said, ĎIíve got this towel ready and if she hurts my baby, Iím throwing it in." Mia's response to that comment at the time was "Believe me, if my life is in danger, Iíll throw in my own damn towel.Ē

Ackley went on to write about the first 10-round bout between St. John and Martin stating: "History will recall no towel was necessary that night. St. John, fighting a competitive fight against Martin in their first meeting----Ten rounds later, to the surprise of many, St. John was still there, standing, smiling, relieved -- a swirl of emotions as much a trademark of her boxing career as her pink shorts and luminescent smile."

Mia St. John has now been professionally boxing for 14 years. At the age of 45, St. John has currently accumulated a boxing record of 47-11-2 (18KO).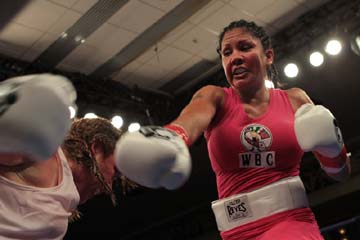 Photo by Mary Ann Owen -Flash Photo Slideshow
Last night at the Table Mountain Casino, in Friant, California, St. John defeated Martin in the mainliner appropriately titled: "The Final Victory." She won by a 10-round unanimous decision [96-94, 96-94, 97-93], adding the WBC Super Welterweight title to other world title belts she has won throughout the years.

Brian Ackley asked St. John in 2002: ."Are you surprised that you are still in boxing?"
St. John responded, ďNo, because I always knew that I would be around for a long time. Itís everybody else who said Ďjust watch, sheís going to come and goí, but I knew that I would be around for a long time and Iím still going to be around for a long time. Iíll fight for another year or two, but Iíll stay in the public eye, still be in the media, still be around in some way or another. Iím working on my own TV show right now, or Iíll host a show. But Iíll stay in the sport. You canít get rid of me. I know all the Mia haters want to get rid of me, but you just canít, Iím not going anywhere. And Iíve proved it. Seven years is a long time in boxing.Ē

St. John mentioned in that 2002 interview that she would probably box 1-2 years more and yet now, 10 years later, she is still going as strong as ever!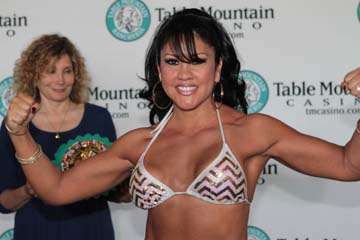 Mia St. John at the weigh-in -August 13, 2012 - Photo by Mary Ann Owen
Last night, after her fight with Martin in Friant, California, she and Martin both announced they would retire.
WBAN will say 'don't be so sure' that St. John will not take another fight. We have heard St. John say this before, just to see her take another fight. There is nothing that will stop this strong-willed boxer from doing anything at anytime what she wants to do, regardless of what anyone says....

WBAN would like to congratulation Mia on her win last night against a tough veteran boxer as Martin.
*note: You may be able to see some of the fight on ESPN Friday Night, not sure if they will show it partially or the whole fight. We have been told that it will be on the English version and Fox Deportes - Spanish.