(AUG 16) On Monday some 20,000 plus fans celebrated Katie Taylor's Gold medal in her home town of Bray, in Co. Wicklow , with thousands more attending celebrations for John Joe Nevin in Mullingar and in Belfast for Paddy Barnes and Mick Conlan.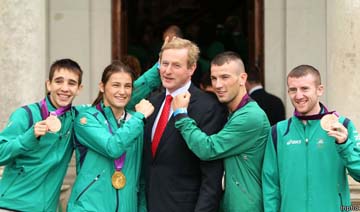 Mick Conlan (Bronze) , Katie Taylor (Gold), 'An Taoiseach' Enda Kenny, John Joe Nevin (Silver) and Paddy Barnes (Bronze)
On Wednesday, An Taoiseach (Prime Minister) Enda Kenny hailed Team Ireland performances at the 2012 Olympics at a government reception at Farmleigh House in the Phoenix Park, Dublin .

Mr. Kenny said that they were champions for the nation and had done their country proud.

Earlier in the day , Team Ireland attended a reception at the Mansion House in Dublin and a further reception on Dawson Street, Dublin for members of the public.

Newly crowned Olympic champion Katie Taylor said that she hoped that her success would inspire more girls to become involved in sport.

Ireland's Olympic boxers, Taylor, John Joe Nevin, Michael Conlan, Paddy Barnes, Adam Nolan and team captain Darren O'Neill attended the day's receptions, along with coaches Billy Walsh, Zuar Antia and Peter Taylor and Team manager Des Donnelly.

Tommy Murphy, President of the IABA, Dr John Lynch, Chairman of the Board of Directors of the IABA, and IABA CEO, Don Stewart, were also in attendance, along with Pat Hickey, President of the Olympic Council of Ireland, and John Treacy, CEO of the Irish Sports Council.

The Irish boxing team commanded 5th position in the medals table and 6th place in the rankings tables at the 30th Olympiad.

Great Britain, Ukraine, Cuba, Russia and Ireland, in that order, finished in the top five in the (boxing) medals table.

Kazakhstan, China, Japan, USA and Italy made up the top ten.

Katie Taylor, John Joe Nevin, Paddy Barnes and Michael Conlan won gold, silver and two bronze medals at London 2012.

Taylor also scooped the Best Female Boxer of the Tournament Award, an historic first as female boxing made its Olympic debut in the English capital.

The Co. Wicklow woman has now won an astonishing 14 Olympic, World, European and European Union titles – all in-a-row – and has never been beaten in a major international final.

Great Britain, Russia, Cuba, Kazakhstan, Ukraine, Ireland, China, USA, Italy and Brazil, in that order, finished in the top ten in the rankings table, which are based on points and medals score.