(AUG 30) On Saturday August 25th at the Pacifica Moose Lodge decorated boxers and champions from 9 - 33 years old came from all over the West Coast to battle it out at the "Beautiful Brawlers II" promoted by Blanca Gutierrez, BabyFace Boxing.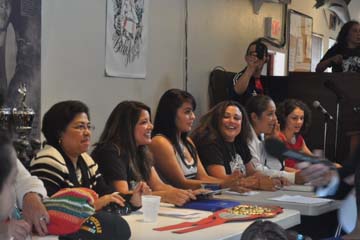 Boxer Megan Siordia, former Heavy Weight Champion Martha Salazar, and coach and promoter Blanca Gutierrez
The boxers who come to this show know they are boxing the best in their weight class and age divisions and knowing that there will be only one persons hand raised at the end of the bout which makes the battles even more competitive and exciting. Since 17 year old Claressa Shields was the only American to capture Gold and Marlen Esparza the only American to capture a Bronze medal at the Olympics, we have seen a surge in females wanting to get ready for the next Olympics which is in Rio in 2016.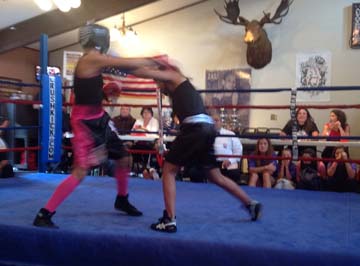 Alyson Vejar Mitey Mites (Black) and Destiny Navaro, Sparta (Black and pink)
By promoting female shows, we are building a foundation for female boxing. This show I focused on matching boxers 15 and under.

The more competitive experience these young boxers get, the better chance we have for a stronger showing at National events which qualify for the trials. Most of the time, it's difficult for females to get quality bouts on local shows. Not enough promoters or matchmakers take the extra effort to match them evenly and put on competitive bouts. When you go to national tournaments you don't know who will show up in your weight class and many times females will win titles by walkover or by boxing a less competitive boxer. I put together this show with love and respect for the sweet science and as a place where "the best of the best" can meet up at one place and take center stage.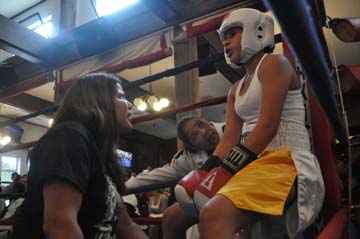 Best bout of the evening 13 years and under: Pitted Megan Siordia from BabyFace Boxing against Ariana Garcia from Double Punches Gym. This was a non- stop novice battle with barrages of punches being thrown each and every round. I don't know how the judges can score a bout like this because each boxer threw, countered and defended and threw more. This was an extremely close fight but in the end Garcia's hand was raised.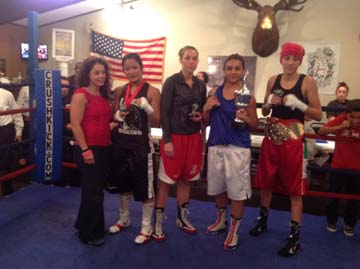 World Champion Melissa McMorrow, Casey Morton, Lisa Porter, Maritsa Guilan and Poula Estrada, Best Bouts of the night 14 yrs up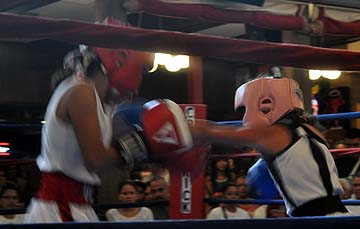 65-lb boxers Melissa Monroy (white and red) vs Haley Zepada (Black and white)
Best Bout 14 – 16 years old was 2012 World Ringside Champion, Danika Lara, Sparta Team, El Central against 2012 JO National Champion, Marisol Lopez, Kings Gym, Atwater, CA- this bout was a beautiful display of skill and talent. Each boxer had their moments and each boxer threw perfect combinations. Although the bout was close, Lopez hand was raised as the winner. We will be seeing each of these girls in the 2012 Olympics! I would put my money on it.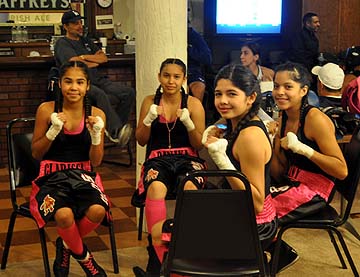 Team Sparta getting their hands wrapped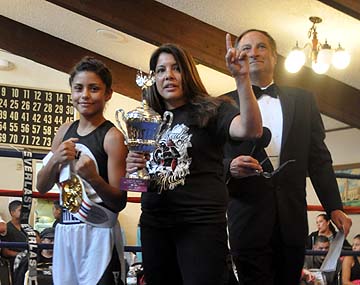 Ellie Salinas- Best boxer of the tournament 13 years and under
Best bout of the night open above 17 was a tie between 2 bouts:

In the Semi Main Event: Lisa Porter from Gio's Gym in Burbank fought a tough and game Maritsa Guilan, Mity Mites, Nevada and this bout was an all out war. Porter came into this bout throwing brutal punches and landing but Guilan came back with punishing counter blows that would set the tone for the rest of the bout. In the second round, the referee after a couple of warnings for holding decided to stop the bout and take points away from each boxer. Guilan started countering Porters jab right hook combinations and answering with jab and huge overhand rights which were landing. As the boxers tied up again, the referee tried to pull them apart, and Lisa Porter threw 3 blows after they were pulled apart and Guilan answered back with a shoulder bump while walking away. Guilan got penalized again and points taken away. (The officiating in this fight was just atrocious.) Guilan gets points taken away yet Porter was free to hit her with 3 punches after they were pulled apart, without any points taken from her. The third round of the bout was the most action packed as an all out war ensued. In the end, Guilan not only won the Beautiful Brawlers Belt but took home Best Boxer of the Tournament. Lisa Porter and Maritsa Guilan stole the show.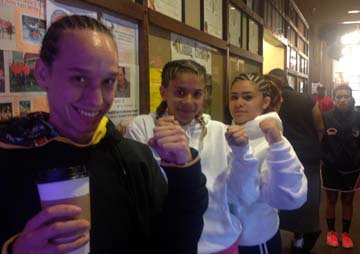 Boxers waiting for the doctor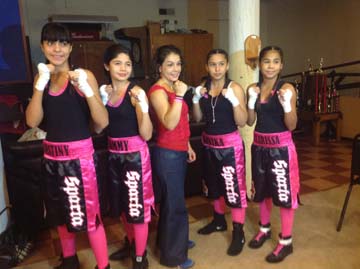 Melissa Mc Morrow with Sparta Team, El Centro CA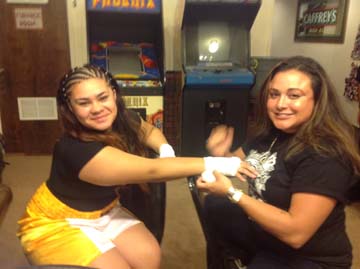 Boxer Ayla Hernandez, Babyface getting hands wrapped
by coach Eliza Olson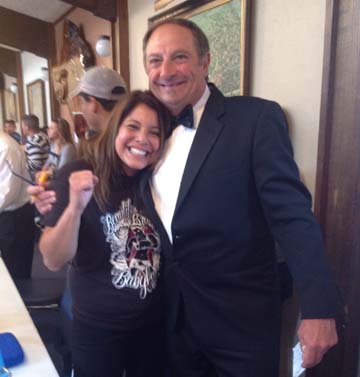 Blanca Gutierrez and Jerry Hoffman, ring announcer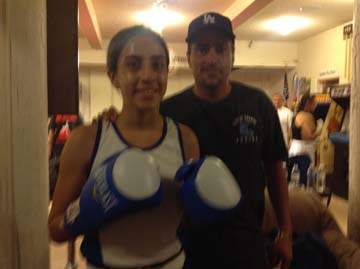 Coach Louie Vanezuela, Duarte Boxing with his boxer Stephanie Valde
In the Main event we brought the 2012 Addidas National Champion Casey Morton, B Street Boxing, San Mateo and Poula Estrada, 2012 Mexican Games Champion, AV Boxing, Palm Desert. The crowd was on their feet throughout the bout since Morton is the local favorite. Estrada took the first round to throw jabs and feel her opponent out and this game plan worked. In the first round Estrada and Morton were mixing it up with Morton landing more punches of the beginning of the round. Estrada, once figuring out her opponent landed a jab right combination that took Casey off her feet and onto the canvas. Casey quickly got up to a standing eight count. Once that count was over Morton launched an attack of her own. Very impressive first round for both.

Second round saw Estrada and Morton in nonstop action. The crowd was on their feet and yelling out for both boxers as they continued to press the bout at a fast pace with many combinations being thrown. In the 3rd and final round, Estrada started timing Morton and picking her apart with devastating blows yet Morton did not give up. This was an amazing bout with two quality opponents that showed ring generalship and respect for one another after the bout. It's bouts like these that give Women's boxing a good name.

The champions who boxed at this show who have set 2016 Olympics as a goal. 15 year old Junior Olympic Champion Marisol Lopez, 14 year old 2012 World Ringside Champion Danika Lara, 17 year old Maritsa Guillan who is the 2012 PAL and Silver Gloves champion. All of these girls were standouts on the show who show great promise of standing on that podium receiving medals in 2016.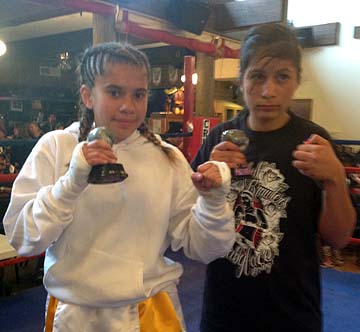 Megan Siordia and Ariana Garcia – best bout 13 years and under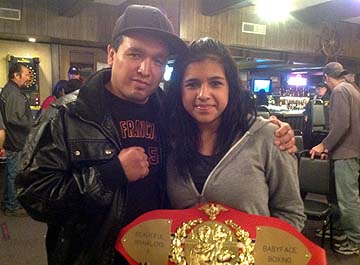 winner Iris Contreras, DF Boxing and her coach/dad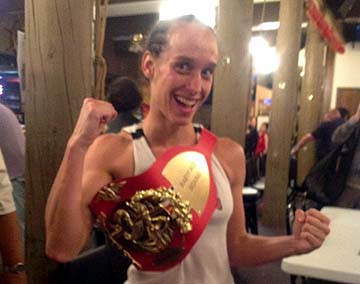 winner Federica Bianco, State Street Boxing gym, Santa Barbara, CA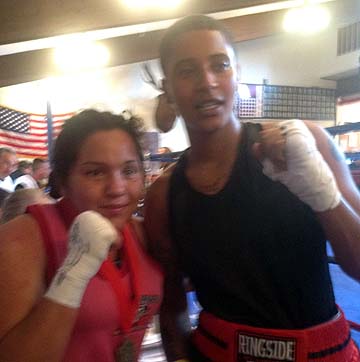 Ayana Brumsfeld, Baby Face and Valerie Ontiveros, Ocean Boxing
As an amateur female Promoter I am proud to throw these events. Martha Salazar, Eliza Olson and I are all doing our best to bring female boxing to the next level. We packed the house. There was no sitting or standing room left. Jerry Hoffman did an excellent job ring announcing and it was such a joy to work with him. World Champion Melissa Mc Morrow picked the best bouts of the night and best boxers of the night. All the girls were inspired by Melissa as she took pictures and mingled with all the boxers. She is a true world champion and a class act. I am so honored that she played such a key role at our event. A big thank you to our sponsors: The Pacifica Moose Lodge, Trinity Electric, Hilder's Builders, Eddy Barretto with BTIG, Pigskin Productions, Vince's Shell Fish and Carol Kuznitsky who helped to make this event even better than last year.

Here are the results of all the bouts:

66 POUNDS:
Melissa Monroy (Caballero BC) dec. Haley Zepeda (Vacaville PAL)

133 POUNDS:
Brenda Gutierrez (Caballero BC) dec. Tatiana Almaraz (Old School BC)

128 POUNDS:
Jasmine Jones (Vacaville PAL) dec. Becky Villagran (Pacific Ring Sports)

87 POUNDS:
Graciela Ortega (Caballero BC) dec. Jessica Juarez (Ocean Boxing)

120 POUNDS:
Ariana Garcia (Double Punches BC) dec. Megan Siondia (BabyFace BC)

157 POUNDS:
Ayana Brumfield (Orgullo Boxing) dec. Valerie Ontiveros (Ocean Boxing)

113 POUNDS:
Destiny Navarro (Sparta BC) dec. Alyson Vejar (Mighty Mites)

118 POUNDS:
Veronica Hernandez (Dreamland BC) dec. Odalys Camacho (Unattached)

89 POUNDS:
Ellie Salinas (Velarde's TC) dec. Clarissa Hernandez (Sparta BC)

127 POUNDS:
Jessica Galvez (Mighty Mites) dec. Adriana Ramirez (Fat City BC)

105 POUNDS:
Marisol Lopez (Avenal King's BC) dec. Danika Lara (Sparta BC)

95 POUNDS:
Stephanie Valdez (Duarte BC) dec. Samantha Enriquez (Sparta BC)

167 POUNDS:
Martha Fabela (Oakland BC) RSC-1 Ayla Sagote (BabyFace BC)

126 POUNDS:
Ariel Arismendez (Hard Knocks Gym) dec. Renata Ramirez (Duarte BC)

118 POUNDS:
Iris Contreras (DF Boxing) dec. Joselina Ortega (Velarde's TC)

132 POUNDS:
Maritsa Guillen (Mighty Mites) dec. Lisa Porter (Matador Boxing)

149 POUNDS:
Rebekka Holt (3rd St. Gym) dec. Kayla Jones (Warm Springs Indian Nation)

124 POUNDS:
Federica Bianco (State Street Boxing) dec. Maddy Banuan (3rd St. Gym)

113 POUNDS:
Paola Estrada (Av Boxing) dec. Casey Morton (B Street Boxing)

FIGHT OF THE NIGHT 13-AND-UNDER: Garcia vs. Siordia

FIGHT OF THE NIGHT 14-AND OVER (TIE): Guillen vs. Porter, Estrada vs. Morton

BEST BOXER 13-AND-UNDER: Ellie Salinas (Velarde's TC)

BEST BOXER 14-AND-OVER: Maritsa Guillen (Mighty Mites)