(OCT 20) In some of the latest amateur boxing news in Olympia, Washington, WBAN received results of two female boxers, Shalynn Holdsworth and Darcie Kaye (Blue Trunks).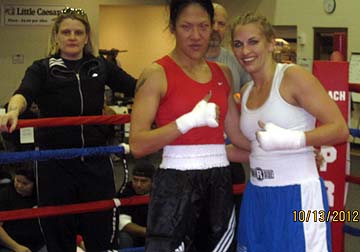 Keith Holdsworth, father of Shalynn told WBAN, "We again travelled from Chilliwack BC Canada to Olympia, Washington, to find competition. Both girls competed in the Showdown In The South Sound Amateur Championships Oct 13-14 2012.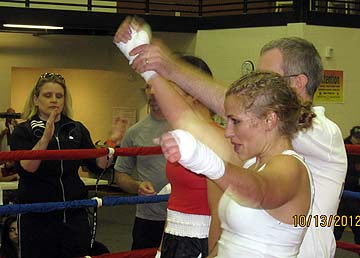 Molly McConnell (left) Darcie Kaye raising hand
"Shalynn had two bouts winning her first by unanimous decision and then winning the second with a second rnd. stoppage. Shalynn also won her third Most Outstanding Boxer Award. She is now 6 - 0 with 3 stoppages. Shalynn is currently 14 years old, 121 Lb. Novice."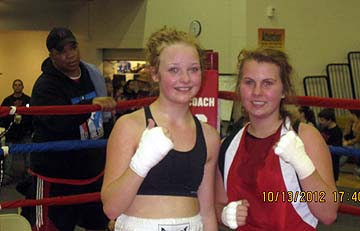 "Darcie Kaye, 27 years old, at 135 Lbs., won a unanimous decision over a taller very game opponent from Portland Oregon coached by Molly McConnell. Both girls did great. Darcie is currently 3-2 with 2 KO's in the Senior Novice Category".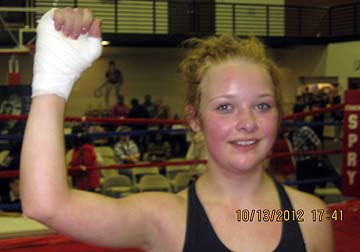 It is great to see world champion Molly McConnell, a long-time veteran in the sport (both as an amateur and now pro) doing great things outside the ring with amateur boxers.

WBAN had an opportunity to see McConnell in action as a boxing coach at Lori Steinhorst's Bad Girls Boxing camps and she was not only a great role model and mentor for the amateurs, but an excellent boxing coach.