(NOV 8) ULM ó Germanyís former world boxing champion, Rola el-Halabi, is set to fulfil her dream to box again, nearly two years after she was shot by her stepfather in a vicious attack.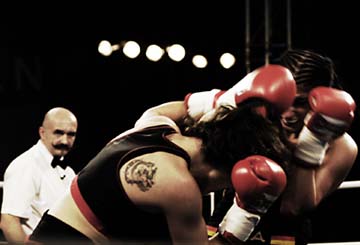 The 27-year-old El-Halabi, who won the womenís International Boxing Association (IBA) and International Boxing Federation lightweight titles in 2009, will climb into the ring on January 13 when she takes on Italyís Lucia Morelli in Ulm for the vacant IBA lightweight title.

The young boxerís life was turned upside down on April 1 2011 when her stepfather and former manager, Hicham el-Halabi, shot her in her right hand, left knee and both feet in her dressing room before she was due to box in Berlin.
The attack came after she terminated his management contract in January that year. He also shot two security guards before being arrested at the stadium. In November last year he was jailed for six years by a court in Berlin.
Her injuries left her in a wheelchair for three months, but el-Halabi says her dream is to become a world champion again. For now, she is just happy to climb into the ring once more.

"The relief is enormous," she says. "This has been my dream and I wanted to live it again.

"Itís like a second birth, I didnít want to say goodbye to this great sport. This is like Christmas, a birthday and Easter all rolled into one."

The Beirut-born boxer, who now lives in Ulm in Bavaria, says she had plenty of motivation to fight again.

"Actually, I have always been motivated to take the hard path, I never had anyone who has done something for me and I am taking this will to win into the fight.

"I always said I will stop boxing at the peak of my career and April 1 was definitely not that.

"I didnít retire then and that has motivated me to keep fighting and always has."

El-Halabi says her fiance has helped her through her tough journey back to full fitness but she has no plans to stay in contact with her stepfather.

"We have absolutely no contact," she says. "The last time I saw him was during the trial and I donít intend to establish contact." She says she is "just concentrating on myself".
El-Halabi says a simple 5km run, just after she came out of the wheelchair following surgery, was part of her inspiration to fight again.