(NOV 24) At a press conference earlier this week, Mexican female fighter Zulina "La Loba" Munoz said she is close to fulfill her dream of winning the vacant WBC super flyweight world crown against the Guyanese Shondell Alfred (that will take place tonight) t in Mexico City.
"I'm going to fulfill my dream. I have fought for seven years to get it". Munoz said in a "face to face" with Alfred, who is also aspirant of the vacant title during a press conference in Mexico City.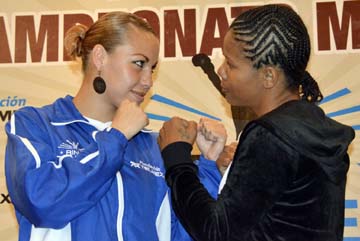 Alfred, with 30 years old, replied: "You can keep dreaming of the title but I am a warrior and I came to Mexico to win".

"Neither she or any other will be an obstacle in my dream", added Muñoz before dozens of fans who attended the press conference for the gala organized by "Ring Telmex".

Zulina, who has a score of 35 wins with 24 knockouts, will star along with the Guyanese this great boxing card called "Gala Ring Telmex 2012" to be played on Saturday November 24 at the Foro Polanco of Mexico city.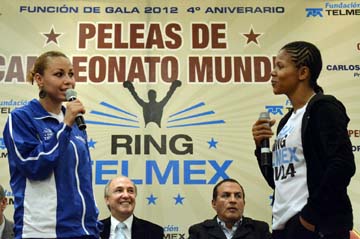 Alfred, confirmed that she is "physically and mentally focused" on winning the vacant WBC super flyweight title. Known in the sport of boxing as "Mystery Lady", the fighter from Guyana said: Zulina "is a good fighter", but I am better.

MORE PHOTOS: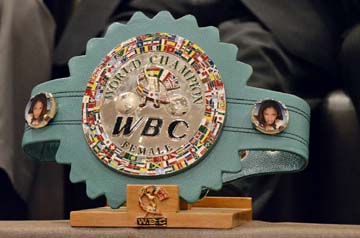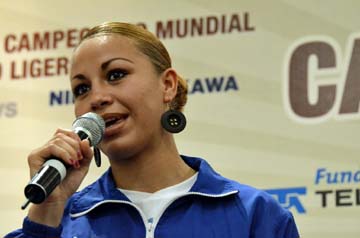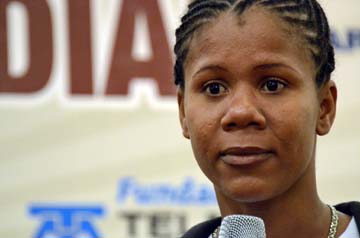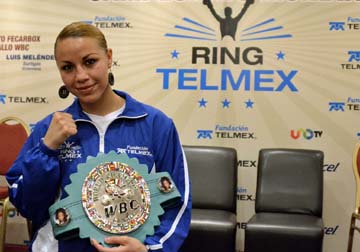 EN SPANISH (ESPANOL) WEIGH-IN

Mauricio Sulaimán Secterario Ejecutivo del Consejo Mundial de Boxeo, informó que tras cumplir los exámenes médicos, se detectó que la boxeadora de Guyana Shondell Alfred se encuentra embarazada, por lo que no podrá enfrentar mañana a Zulina Muñoz, por el vacante título mundial supermosca, en el combate estelar de la Función de Gala de Ring Telmex, a celebrarse en el Foro Polanco de la Ciudad de México.

Ante los aficionados y representantes de los medios de comunicación, la boxeadora de Guyana, ofreció una disculpa a los organizadores de esta cartelera internacional, así como a Zulina y comentó que se había sometido a una intensa preparación con el firme propósito de regresar a su país, como campeona mundial, sin embargo, señaló que espera en el
futuro tener una nueva oportunidad de disputar el emblemático cinturón verde del WBC.

Por su parte, Zulina felicito a Shondell y le manifestó sus mejores deseos de que disfrute al máximo esta nueva etapa de su vida.

LA PANTERA RAMIREZ ANTE ZULINA
Por otra parte, se informó que la mexicana Maribel Ramírez será la rival de Zulina, en el combate por el vacante título mundial supermosca.

TODOS LOS CONTENDIENTES VENCEN A LA BÁSCULA

VACANTE CAMPEONATO MUNDIAL SUPERMOSCA

ZULINA MUÑOZ 52.00 KG. MARIBEL RAMÍREZ 52.00 KG

ELIMINATORIA AL TÍTULO MUNDIAL LIGERO
DANIEL ESTRADA 61.200 NIHITO ARAKAWA (JPN) 61.200

CAMPEONATO MUNDIAL PLATA SUPERMOSCA
CARLOS CUADRAS 51.800 FERNANDO LUMACAD (PHIL) 52.00

VACANTE CAMPEONATO CONTINENTAL DE LAS AMERICAS GALLO
FELIPE ORUCUTA 52.500 MANUEL DE LOS REYES
(COL) 52.500

VACANTE CAMPEONATO FECARBOX PLUMA
ANDRÉS GUTIÉRREZ 57.00 HUGO BERRIO (COL) 56.300

CAMPEONATO FECARBOX GALLO
JULIO CEJA 53.500 LUIS MELENDEZ (COL) 53.00

PESO SUPERGALLO (8 ROUNDS)
HORACIO GARCÍA 55.500 JAIRO HERNÁNDEZ 55.500

PESO MINIMOSCA (6 ROUNDS)
JESSICA NERY 48.00 GUADALUPE GUZMÁN 49.00