(DEC 11) WBAN got an opportunity to talk with retired world champion Yvonne Caples of the United States who fought from 1999 to 2006. Caples is currently in Germany and she told WBAN the following: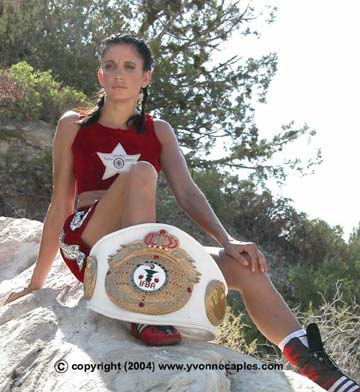 Flash from the Past - Yvonne Caples
"In June I made the move to the east coast specifically Raleigh, North Carolina. Just as I was beginning to get settled in Raleigh, my husband who works for a German engineering firm was asked to go to Germany for 6 months in October. I am enjoying my stay here in Mannheim and currently work teaching online classes (to students in Las Vegas!) and am an elearning developer. I am having a lovely time here in Germany. The winter holidays are a fun time to be here with the Christmas Markets and snow. I have been training (for fun only...no plans to go back to competing) at a couple of local gyms here and hope to visit other gyms around Germany as well as go to boxing events happening here. The boxing/fight community here is very welcoming and supportive and I have met some wonderful people. I wish everyone a blessed holiday season and would like to thank all of the amazing female fighters out there whose determination, talent and spirit are truly inspiring!"