5'6½" Ann Marie Saccurato, 28 years old as of 2006, fights at 142-157 lbs. She is from White Plains, New York and trains at New York Boxing Gym in Yonkers.
Ann Marie overcame tremendous odds just to be walking today. In 1995, she was a passenger in a devastating car wreck while returning from a volleyball competition at the Empire State Games. The driver of the vehicle was killed and Ann Marie suffered a punctured lung, broken pelvis, hip, two broken legs, a shattered arm, broken ribs and severe nerve damage. She was not expected to live the night, let alone ever walk again. Being a determined athlete, she proved everyone wrong and immediately took up an aggressive rehabilitation program knowing in her heart she would play sports again.
Against all medical odds, Ann Marie went on to play basketball and volleyball for Seton Hall University in 1996. She is often a guest speaker in schools, hospitals, and gyms, sharing her story of beating the odds, and encourages others to never give up on their dreams.
In 1999, she entered her first boxing gym stronger than ever, and began a career as an amateur boxer. She compiled a 9-4 amateur record, taking the silver medal at 156 lbs in the 2000 USA Boxing National championships, and winning the 2001 New York and US National Golden Gloves competitions.
In the 156-lb division at the 2000 USA Boxing Everlast Nationals in Midland, Texas, Ann Marie faced US Marine Jennifer Driggers of Camp LeJeune, NC in an intense preliminary bout. Driggers appeared to have the fight in control after a strong first round but Saccurato, despite a bloody nose, came back with flurry of punches in the second round to regain the momentum. Both continued to trade furious blows in the third round but it was Saccurato who landed the most punches to eventually win on points by a 20-10 tally.
In the semifinal on April 13, 2000, Ann Marie faced Maxine Madrifal of Amarillo, Texas. Despite getting her nose bloodied in the first round, Saccurato rallied furiously for one of the most exhilarating bouts of the tournament, eventually beating Madrigal 34-18 in a bout stopped at 1 minute, 11 seconds of the third round thanks to the 15-point rule. "New York is tough, bottom line," Ann Marie told local reporters, "There's nobody tougher. Never say die is our attitude."
On April 15, 2000 in the 156-lb final at the Chaparral Center in Midland, Ann Marie faced fellow New Yorker Jill Emery, who stopped her at 1:52 in the second round (RSC-2) when Emery was up 22-3 on points. Emery used an Olympic style of boxing taught to her by a Russian coach.
In the 156-lb (Light Middleweight) Open Division at the 2001 US National Golden Gloves in Augusta, Georgia, Ann Marie defeated Kara Lucas of Hollywood, Florida by RSC-3 in her preliminary bout, defeated Azalea McCarty of Wilmington, North Carolina by RSC-1 in the semifinal on August 10, and then defeated Sha'mell Carter of Kansas City by RSC-2 in the final on August 11.
She made her pro boxing debut on May 24, 2002 at Wonderland Ballroom in Revere, Massachusetts. She weighed in at 147 lbs and won a scheduled four-rounder by a second-round TKO over Anne Marie Francey (151 lbs). Francey took a standing eight count in the second round and fell to 1-1-0 (1 KO) with the loss (she has not fought since).
On July 23, 2002 at New Rock City in New Rochelle, New York, Ann Marie (144½ lbs) won a first-round TKO over Myriam Bazile (140 lbs) of Miami, Florida, who fell to 0-2, both losses coming by early TKO.
On December 11, 2002 at Hudson Theatre in Manhattan, New York City, Ann Marie won a controversial four-round majority (38-37,38-37,38-38) decision over debut fighter Daria Hill of Philadelphia, Pennsylvania. According to a report by Scott Shaffer of Inside Women's Boxing "Saccurato's glove touched the canvas in the first for a knockdown, and she appeared to lose the fourth clearly, but somehow she managed to escape with a majority decision."
On March 19, 2003 at Villa Barone Manor in the Bronx, New York, Eliza Olson (145½ lbs) of Fresno, California and Ann Marie (146½ lbs) fought to a four-round draw. Olson's record was now 6-1-1 (2 KO).
On September 6, 2003 at Greensboro Coliseum, Greensboro, North Carolina, Ann Marie won a four-round unanimous decision over Bonnie Mann of Raleigh, North Carolina, who fell to 3-7-0 (0 KO). According to news sources, Mann stunned Saccurato a little in the second round, but Saccurato was busier and won the other three rounds.
On November 1, 2003 in Greensboro, North Carolina, Ann Marie won by a second-round TKO over Bonnie Wherry of Cleveland, Ohio, who fell to 3-5-0 (2 KO) with this loss. The card was promoted by former pro boxer Cheryl Nance.
On March 19, 2004 at Olympic Theater in New York City, Ann Marie (145 lbs) won a four-round unanimous (40-36,40-36,40-36) decision over pro debut fighter Elizabeth Mooney (145¼ lbs). Mooney attempted to pressure the more experienced Saccurato, but Saccurato used her jab and ring movement well to earn the clear decision.
On May 30, 2004 at the DC Tunnel Events Center in Washington, DC, Ann Marie (145 lbs) fought to a four-round majority draw with Maria Lindberg (5'5", 151 lbs) of Malmö, Sweden. The bout was even throughout as both got their shots in. Judge Cooper saw the bout 39-37 for Saccurato, while judges Scaife and Ellis saw it as a 38-38 draw. Lindberg is the 1998 Swedish amateur 71-kg champion who was suspended from boxing after an injury in 1999 but has returned to fight professionally in the USA; she moved her pro record to 1-0-1.
On October 30, 2004, at Orange County Fairgrounds in Middletown, New York, Ann Marie won a six-round unanimous (60-54,60-54,59-55) decision over Cimberly Harris of Tampa, Florida, who fell to 2-3-0 (0 KOs).
On February 4, 2005 at Westchester County Center in White Plains, New York, a boisterous crowd of about 3500 saw Ann Marie (145 lbs) win a six-round unanimous 60-54 decision over Victoria Cisneros (143½ lbs) of Albuquerque, New Mexico.
On May 6, 2005 at Westchester County Center in White Plains, New York, a crowd estimated at 1600 saw Ann Marie stop Martha Deitchman-Orozco of Denver, Colorado in the fourth round of a scheduled eight rounder. Saccurato, who boxed carefully in the first three rounds, turned up the heat in the fourth and put Orozco away with powerful combinations. She improved her record to 9-0 (2 KO) while Orozco, who substituted for Iva Weston of Trinidad when Weston was unable to get a visa, fell to 2-5-1. "Before, she always threw all her punches with speed," Roca said trainer Hector Roca, who trained Hillary Swank for her role in 'Million Dollar Baby'. "But tonight she started with her jab. Then, before the fourth round, I told her: 'Let's go home.' Then she started punching."

"I think she's ready for a title fight," said matchmaker Ron Katz, "I
think she's that's good."
On August 26, 2005 at the Westchester County Center in White Plains, New York, Ann Marie lost a six-round split (56-58,58-56,59-55) decision to the highly experienced Belinda Laracuente from Puerto Rico by way of Florida. In the first two rounds, Saccurato was the aggressor and landed hard shots to Belinda's head and body, but Laracuente took these shots in her stride while countering with her jab. From the third round onwards, Belinda outboxed Ann Marie and began to land with fast combinations that kept Saccurato at bay, repeatedly snapping her head back. The crowd began to cheer for Laracuente as she continued to control the action. Laracuente improved her record to 22-10-2 (9 KOs) with the win while Saccurato fell to 9-1 (2 KOs) with her first pro loss.
On November 23, 2005 at Westchester County Center in White Plains, New York, Ann Marie (141 lbs), TKO'd Tanya Gallegos (147 lbs) in the first round of a scheduled six rounder. Gallegos fell to 3-4-0 (2 KOs).
On February 10, 2006 at the Hynes Athletic Center on the campus of Iona College in New Rochelle, New Jersey, Ann Marie (140 lbs) won a rematch with Victoria Cisneros (5'5", 143 lbs) of Albuquerque, New Mexico by an eight-round unanimous (78-74,79-73,80-72) decision. Saccurato came on strong to beat Cisneros for the second time. According to WBAN correspondent Bernie McCoy, "The pattern of the fight was established in the first round: Saccurato fighting out of a crouch, yet staying up on her toes, using the full ring, arms low; Cisneros, standing up straight, flat footed, attempting to 'cut the ring' and looking to trap Saccurato to the ropes, which she did effectively a couple of times. Saccurato later said that she thought it was her movement that eventually made the big difference in the fight. Both fighters had good flurries throughout the first three rounds, until Saccurato landed a big right hand midway through the fourth stanza. In the last four rounds, Cisneros seemed less inclined to come forward, instead circling in mid-ring and, as a result started to absorb more punches as Saccurato seemed 'to find a home' for her right hand. Cisneros was, however, fully game to the end and earned justified recognition from both the crowd and Saccurato. It was a good eight rounds of boxing, maybe the best fight on the card."
In another report, J.F.Bailey said 'Ann Marie's noticeably improved conditioning, relentless aggressiveness, and flashing speed won this fight, though finishing with a puffy face. Cisneros, slimmer, tougher, really improved against Ann Marie this time, simply did not have the speed to reach Ann Marie and connect with all she had. Saccurato's speedy combos punished Vickie inside big time with her rat-a-tat body work and left right slugging to the head in close and personal. Saccurato lost her first fight last summer running out of gas and getting outpointed against a superior boxer. She had plenty left in the tank tonight, as she avoided the relentless Cisneros' valiant attempts to land a hard shot to overturn defeat in the closing round." Cisneros fell to 3-3-2 (0 KOs).

Ann Marie battles Jelena Mrdjenovich in November 2006
© Copyrighted photo taken by Mary Ann Owen
On November 4, 2006 at the Shaw Conference Centre in Edmonton, Alberta, Ann Marie (135 lbs) won by a split (96-94,96-94,94-96) ten-round unanimous decision over local favorite Jelena Mrdjenovich (133 lbs) of Edmonton for the vacant WBC Lightweight title. Jelena fell to 18-2 (11 KOs) while Ann Marie improved to 12-1-2 (5 KOs). Ann Marie had taken the fight on just a few weeks' notice when Eliza Olson dropped out as Mrdjenovich's opponent with a training injury.
After the fight, Saccurato told reporters: "Jelena (Mrdjenovich) is a world champion boxer and I was very thankful for the opportunity to box on an all-female card that is donating money towards breast cancer research. Even though it was her hometown, I knew it was my time. I have trained hard for this fight, and I knew in my heart I would take home the WBC green belt."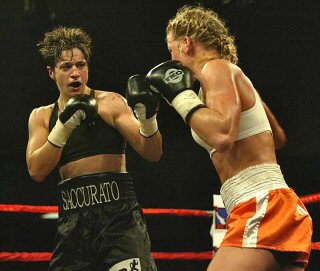 Ann Marie vs Holly Holm
© Copyrighted photograph by Mary Ann Owen
On March 22, 2007 at the Isleta Casino near Albuquerque, New Mexico Holly Holm (143¼ lbs) of Albuquerque won a hard-fought ten-round unanimous (98-91,97-92,97-92) decision over Ann Marie (141 lbs) for six (IFBA, WIBA, GBU, WBC, IBA, WBA) welterweight world title belts. The scoring does not do justice to a strong effort by Saccurato, who pressured the highly mobile Holm aggressively throughout the entire fight and often corralled her against the ropes. Saccurato was deducted a point in the seventh for holding Holm behind the head while hitting. Saccurato was the aggressor throughout and often controlled the tempo of the fight while Holm landed fast and effective scoring shots when she stood her ground. Every round was closely contested, and the lop-sided score did not reflect the overall action. The card was televised live on Fox Sports Net's "Best Damn Sports Show Period", marking the return of women's boxing to live network coverage in the USA. Holm improved her record to 17-1-2 (5 KOs) while Saccurato slipped to 12-2-2 (5 KOs). (For coverage of the weigh-in, and more fight photos by Mary Ann Owen and Patricia Butaud, see MPEG/Photo Galleries #419 and #420 on the WBAN Member Site).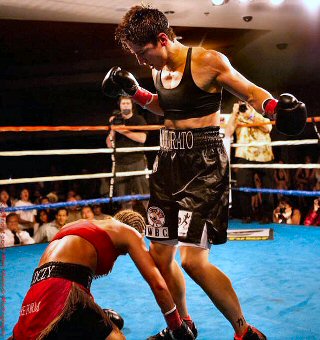 Ann Marie and fallen Jessica Rakoczy
© Copyrighted photo by Alan Messick
On September 27, 2007 at the Tachi Palace Hotel and Casino, in Lemoore, California, Ann Marie won the WBC Lightweight title (which she had vacated to fight Holly Holm for the Welterweight crown) by knocking out local favorite Jessica Rakoczy of Las Vegas at 1:58 in the tenth round. Rakoczy had controlled the early rounds but was in trouble from a later-round rally by the hard-charging Saccurato although she was reportedly ahead on two of the three scorecards. Saccurato dropped Rakoczy with a stunning straight right to her face, and the referee stopped the bout. Rakoczy fell to 27-3-0 (11 KOs) as Saccurato improved to 13-2-2 (5 KOs). (For more fight photos and weighin coverage by Alan Messick, see Photo Galleries #444 and #446 on the WBAN Member Site).
On November 10, 2007, at Shinjuku Face in Tokyo, Japan, Emiko Raika of Japan won a ten-round majority (99-93, 97-93, 95-95) decision over Ann Marie defending the WIBA Lightweight title. In the early rounds Ann Marie came forward looking to establish her jab and caught Raika hard repeatedly. Raika began to pursue and land her trademark left hooks in the middle rounds, putting the fight more on even terms. According to Ryan Wissow of the WIBA: "In a fight that will be named the WIBA`s 2007 Fight of the Year ... Saccurato gave Raika serious fits in the first three rounds by moving and boxing, something nobody expected to see from Ann, who is well known for being a brawler. It took Raika a few rounds to adjust, but she was able to cut off the ring successfully and engage Saccurato in some fierce exchanges. Both fighters landed bombs on each other, but Raika was the aggressor throughout the bout and landed more big punches." Angel Bovee of Team Saccurato told WBAN: "We are very disappointed to see Ann Marie winning so many rounds in a bout that never ended up on the judges score cards. Objectively, Ann landed more punches than Raika in every round but one and completely out boxed Emiko and we are sad to see the three Japanese judges did not see it that way". At the end of the bout, Raika fell to her knees as if exhausted, but was rewarded with the decision. Raika, who had promoted the event, improved to 17-3-1 (6 KO's) while WBC champion Saccurato fell to 13-3-2 (5 KOs).
Ann Marie made a little history by having an all-female corner team consisting of world champions Melissa Hernandez (WIBA Jr Featherweight) and Belinda Laracuente (GBU Junior Welterweight), plus former US National Junior Welterweight amateur champion Angel Bovee. According to Ann Marie, "While Angel is always in my corner, this is the first time we have tried this particular team as my coaches and corner. I love the compatibility we all share and to have three female champions behind me, makes us not just unique, but unstoppable in the ring! In my corner I don't have to worry about any ego clashes, we are all there for the same purpose, to grow personally and professionally and to advance
women's boxing. Women's boxing needs these types of excellent fights to help it gain spectator support and more visibility worldwide."
On August 11, 2008 in the main event at the Tokyo Dome in Tokyo, Japan, Ann Marie Saccurato (135 lbs) defeated Emiko Fujin Raika (134½ lbs) by a ten-round unanimous (98-92, 97-92, 97-93) decision to become a three-time WBC Lightweight World Champion. This result overturned the outcome when Ann Marie previously fought Raika in Toyko on a card promoted by Raika herself. To quiet any skeptics, Ann Marie came out strong in the first round and landed several powerful right hands, breaking Raika's nose. The battle continued with Ann Marie boxing on the outside and Raika having a hard time finding her with her punches. In the sixth round, Raika landed a head butt, which cost her a point on the judges scorecards. Ann Marie suffered a cut from the head butt which required stitches after the fight, but her corner was able to control the bleeding and Ann Marie continued to outbox Raika with her skill and incredible punching power. Ann Marie improved her record to 14-3-2 (6 KO's) while Raika dropped to 18-4-1 (6 KO's).
On October 9, 2009 at Salle Vallier in Marseille, France, Myriam Lamare of Marseille won an exciting ten-round unanimous (99-92,99-90,100-89) decision over Ann Marie for the WBF Junior Welterweight title and the WBAN Junior Welterweight title. WBAN was told the fight had the fans out of the seats cheering. (Note that the three judges came from Luxembourg, Connecticut and France and the referee was from Germany). Lamare improved her record to 18-3-0 (10 KO's) while Saccurato slipped to 14-4-2 (6 KO's).
On November 13, 2009 at the Shaw Conference Center in Edmonton, Alberta, Canada, Ann Marie Saccurato (133 lbs) won a ten-round unanimous decision in a rematch with Jelena Mrdjenovich (133 lbs) of Edmonton for the WBC Lightweight title. Canada.com correspondent Paul Owen wrote that "Saccurato knocked Mrdjenovich down in the third and fourth rounds and escaped with an emotional 96-94, 94-94, 95-93 majority victory to retain her title belt ... '"I'm happy with the outcome. I'm not happy with certain things that I couldn't pull off that I would have liked to, technically, in the ring," said Saccurato ... The fight started well for Saccurato, as her first punch of the bout caught Mrdjenovich on the left eye, and another shot in the second round swelled up the other. Saccurato then caught Mrdjenovich off balance and sent her to the mat in the third, and again in the fourth with a vicious right hand. Mrdjenovich fought back after the second knockdown, however, bloodying Saccurato's nose in the sixth round and cutting open her forehead in the ninth. "I definitely wanted to finish it, but I knew I was jumping in too much. I was getting too anxious and I was falling away from my game plan, so I was just trying to settle down some, which I didn't do as well as I would have liked to," Saccurato explained. The tide almost turned in Mrdjenovich's favour in the ninth round when Saccurato was penalized a point for punching Mrdjenovich in the back of the head after being repeatedly warned by referee Don Smart, but it wasn't enough to overcome the early lead built by Saccurato ... "All I have to say is that it was a great fight for women's boxing. I thought it wasn't deserving of a draw, but it was a great fight ... and that's what we need," said a curt Mrdjenovich after the fight." (For a fight photo gallery see Photo Gallery #514 WBAN Member Site). Saccurato improved to 15-4-2 (6 KO's) as Mrdjenovich slipped to 23-5-1 (11 KO's).
WBAN awarded Ann Marie Saccurato its Fighter of the Month for December 2009 in recognition of this win.
On December 5, 2010 at Route 66 Casino in Albuquerque, NM
in the main event, Holly Holm (139½ lbs) of Albuquerque won by a TKO at 0:51 in the eighth round over Ann Marie Saccurato (138½ lbs). In this scheduled ten-rounder, Holm defended her IBA Junior Welterweight belt, and fought for the WBAN Junior Welterweight belt, the second WBAN belt she has won. Holm, who was much more aggressive in this fight than in their previous meeting, improved her record to 29-1-3 (9 KO's).
On August 6, 2011 at Estadio Socios Fundadores in Comodoro Rivadavia, Chubut, Argentina, unbeaten interim champion Erica Farias (134 lbs) of Buenos Aires, Argentina won the WBC Lightweight title with a technical decision over Ann Marie Saccurato (134½ lbs). The scheduled ten-round fight was halted by a cut to Saccurato's scalp caused by a clash of heads that had been ruled accidental. Farias had used her movement and hand speed to build a clear 79-71,78-73,78-72 lead on the judges' scorecards in the eight completed rounds. Farias improved her record to 11-0 (6 KO's) with the win while Saccurato fell to 15-6-2 (6 KO's). [Video]



Ann Marie trains at night after working full-time, seven days a week, as a personal trainer for a company that provides physical therapy, rehabilitation, and performance training to athletes, after-care patients and the general public. Her goals are to win world titles and to encourage young girls to pick up the gloves. With grace, hard work, intellect and heart, Ann Marie will continue to prove to the world that dreams do come true!
"I put a lot of responsibility on myself to represent women's boxing and try and get to the next level," says Saccurato, "I'd like to go where no women's boxer has ever gone."
Other Ann Marie Saccurato links
To check out fight reports, complete up-to-date boxing records, with huge digital photos you can go to the WBAN Records Member Site
Page last updated: Friday November 06, 2015