Daria "D' Hit Woman" Hill, 6'1", born on January 7, 1979 in Camden, New Jersey. She lived with her Mother and Father, Darrah and Peggy Porter.

Daria told WBAN, "My Mother and Father taught me to believe in myself, because, if you believe, you can make it happen. 'Just Believe'. My father Darrah and grandfather William James Porter were both boxers."

Daria attended pre-school at the "Broadway Family Center" in Camden, New Jersey. She later attended Whittier Elementary School and Morgan Village Junior High. Daria graduated from Camden High School. She became interested in rapping at an early age. She also started out writing poetry. In time, Daria was able to convert her poetry into a song writer's format.

During Daria's freshman year in high school, she joined the girl's basketball team. Daria won "the Rookie of the year trophy". Daria said, "That made me feel good. I have always felt I am a natural born entertainer. So, with that in mind, I joined the school band and the school choir, even though, I don't think I can sing that well. I became a member of the All City Dance Club, I acted in plays and I was also a member of the Track and Field Team."

In her sophomore, junior and senior years she worked at the school. Daria held a position as a part-time computer assistant/intern. She worked as a receptionist for a small Newspaper "Times Publication". Graduating from High School was one of her biggest achievements.

Soon after graduation, Daria moved to Syracuse, New York. She worked several jobs over a few years.

When she was 20 years of age, Daria gave birth to a baby boy, her son, Caliph Perry. "He certainly motivates me to do more than work a nine-to-five job. Soon after his birth I began to concentrate more on my rapping career. I rapped at parties, went to talent shows, open mic's , also during the summer months in Camden every year we would have, Unity and Fun Day, like always I'd find a way to entertain everyone, either by dancing or rappin or both", added Daria.

Daria said, "Presently I'm writing and producing my music, in addition I have my own studio, and so I am constantly making, burning and selling my own CD's. I had my first single release party in Camden in 2002. The party was a success. Camden showed mad love for a sister that night. I went to a talent search in early March of 2002, American Music Search (AMS). One of the representatives of AMS really liked my CD and as a result, I was asked to come to a convention in Washington D.C., to meet and let 35 Record Companies listen to my CD. However the trip was not feasible, because the cost just was not in my budget."

Daria wanted to get into boxing, because she was always fighting and knocking out guys in high school, so she met a young Preacher who was also known as the "Rev". He believed in her fighting spirit right away so he took her to Philadelphia, PA to Champs Gym and introduced her to her current boxing trainers, Wade and Randy Hinnant. Both are ex-fighters. She strapped on the real gloves in April of 2000.

Daria has been in the ring with Jacqui Frazier Lyde….("Sister Smoke"), she is the daughter of former Heavyweight Boxing Champion "Smokin" Joe Frazier. And in fact, was a sparring partner with Jacqui when she was preparing to fight Laila Ali. Daria looked at it as a great experience, and a small part of history. She also got compensated for her time.

Daria said, "The bottom line is I truly enjoy boxing and rapping. I always loved the response I've gotten from people. So, on that note…. I am working as hard as I can in both professions to be the best. My plans are conclusive. Like any up and coming talent I am seeking a reputable and winning team to surround me and I look forward to a long and prosperous career in both boxing and music. All I need is the time from God and the rest shall be history."

Boxing background
Daria won her first amateur fight by way of a (TKO), 39 seconds of the second round. She won a majority decision in her second fight. She lost her third fight on a majority decision in a fight that she felt that she won. Daria turned professional shortly after.

Fight #1: On December 11, 2002, at Hudson Theatre, Manhattan, New York City, Anne Marie Saccurato won a controversial four-round majority (38-37, 38-37, 38-38) decision over debut fighter Daria "D' Hit Woman" Hill of Philadelphia, Pennsylvania. According to a report by Scott Schaffer of Inside Women's Boxing "Saccurato's glove touched the canvas in the first for a knockdown, and she appeared to lose the fourth clearly, but somehow she managed to escape with a majority decision." It should have been a lesson learned" (don't let them get up, be aggressive).

Fight #2: On June 19, 2003, at Adam Mark Hotel, Philadelphia, PA, D' Hit Woman won her first professional match. She dropped Machelle Shedrick in the first round on her way to a TKO 2 minutes into the 2nd round. Her aggressiveness was the key. She displayed great power.

Fight #3: On May 30, 2003, at DC Tunnel, Washington, DC, D' Hit Woman once again displayed great power. She dropped Iris Griffin twice in the first round and went on a relentless attack when griffin corner stooped the fight.

Fight #4: On January 29, 2005, at Silverton Hotel Casino, Las Vegas, Nevada, D' Hit Woman once again displayed great power and a will to win. Unable to catch her breath and lift her arms from the first round on, because of the altitude change, which plagued the east coast fighters, she still managed to stop Angie Poe by way of TKO 1:54 into the 5th round. She showed grit and determination and the only fight she felt she was losing.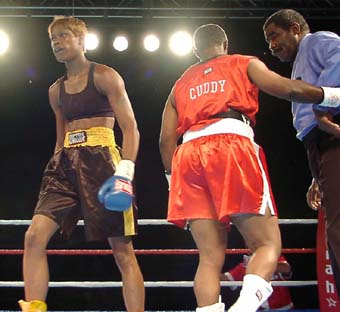 Daria Hill vs. Shadina Pennybaker

Fight #5: On October 8, 2005, at Harrah's in Laughlin, Nevada, D' Hit Woman" ranked #19 once again showed the boxing world what she is made of. Fighting the feared Shadina Pennybaker ranked #1 by the WBAN in what could have been the best fight of the night. D' Hit Woman fought an outright war for six rounds. Learning from her last fight in Las Vegas D' Hit Woman came prepared for the altitude change. According to a report by Sue TL Fox of WBAN both fighters knocked down each other, with Pennybaker taking two knockdowns, and Hill one knockdown. Hill was the much taller opponent, and displayed a disciplined style of boxing. Pennybaker more of the brawler. The combination made a dynamic duo. When the referee announced that Pennybaker won by a unanimous decision it was not without some of the crowd booing at the decision. Both fighters not only displayed great skill, but very good sportsmanship. The final judges scores were (57-55, 56-55, and 56-55).

Ready, Willing and Able Statement (RWA)
Daria "D' Hit Woman" Hill is RWA to take on all challenges in her weight class. She is currently fighting from 140-154 lbs. However, if the right fighter comes along and makes an offer at a higher weight class, let say, someone like, Laila Ali, she would be happy to step up and take on the challenge. After all everyone deserves a shot at the best to be the best and after all "D' Hit Woman" is the best.

Contact Information

• For Boxing Matches call her trainer Wade Hinnant at 215-813-1946
• For Music CD call D' Hit Woman" at 856-993-9640
• For Endorsement Deals or Music Bookings or call Rev. Duane A. Quamina at 215-668-5051.

See her write up from the Courier Post Newspaper. Visit her at http://www.dvrbs.com/CamdenSports-DariaHill.htm .

To purchase Music CD featuring singles "Whatcha Gotcha" and "Scrap Scrap" send check or money order made out to A Hard Act 2 Follow, 30 North 5th Street, Camden, NJ 08104. Cost $20.00 (shipping and handling included in cost).

To check out fight reports, complete up-to-date boxing records, with huge digital photos you can go to the WBAN Records Member Site