Five-foot-seven, junior welterweight Fredia "The Cheetah" Gibbs claims to be the "most dangerous woman in the world", and many who've seen her in action as a pro boxer and kickboxer won't second-guess that.
She grew up in a tough part of Chester, Pennsylvania and was a track and basketball standout in high school. "It was tough growing up in my household with my mom," Gibbs told the Philadelphia Inquirer. "She was a very tough woman, she was strict on us. Growing up in the projects, kids will test you and we were not allowed to hit anyone back."
Fredia went to Temple University on a basketball scholarship but academics and Fredia didn't mix well at that time. She eventually graduated with a marketing degree from Cabrini College in 1988. She was the leading scorer on their basketball team and went on to play pro basketball in Europe.
Fredia returned to the US in September 1990 and took up kickboxing in California. She had learned martial arts and karate from her uncle as a teenager, as much for self-preservation as for sport. "Older girls, younger girls, they all tried to bully me", she says.
It was not long before she burst on the kickboxing world as a fierce contender. She amassed a 16-0 record with 15 KO's as a kickboxer, and stunned the world when she kayoed French star Valerie Henin in the third round of an ISKA pay-per-view event. Henin had been called "the most dangerous woman in the world" in some kickboxing circles before this fight. After it, the appellation belonged to Fredia Gibbs!
Fredia made her pro boxing debut on January 23, 1997 with a four-round decision over Maria Fortaleza Recinos. On April 16, 1997 she outpointed Daniele Doobenen over four rounds. But she dispatched her next two foes quickly ...
She separated 42-year-old veteran Gail Grandchamp from one of her teeth winning by a TKO at 1:10 in the first round on the IFBA card in Biloxi, Mississippi on August 2, 1997. Gibbs took the 42 year old "Champ", who looked completely unprepared for this fight, apart with ease. Gibbs' first flurry consisted mostly of left hooks that missed but she landed one straight right and it was enough to back Grandchamp up. As she stumbled back ending up in her own corner Fredia unleased several overhand rights and Gail just covered up until referee Robert Williams stepped in to have a look at her. After Grandchamp's mouthpiece fell out, Williams stopped it.

against Annaliese Kolan in 1997
On an IFBA card in Lula, Mississippi on October 24, 1997, Fredia stopped Annaliese Kolan in the second rond. Kolan was no match for Gibbs in this. Both started out dancing around on the outside and the bout looked even for about a minute, but as they came together, Fredia began to assert her dominance. She landed right hands to the body and the head and it looked like a standing eight would be given but the referee decided not to give the count and told them to fight on. Gibbs again backed Kolan up and threw overhand rights while Kolan covered up. This time a standing eight was really given. Gibbs might have finished but the round was over by the time the standing eight was finished. Gibbs came out aggressively in Round Two and with much the same formula she got inside and started scoring with rights to the body and head. Two standing eight counts were given but while giving the second, the ref decided to call the whole fight as he saw that Kolan's eyes were dazed.



vs. Leah Mellinger
Fredia Gibbs's first shot at a boxing title came in an event on March 21st, 1998 at the Tropicana in Atlantic City, against Pennsylvania's Leah Mellinger for a newly-created IFBA junior welterweight belt. Gibbs opened a cut over Mellinger's left eye but was unable to overcome Mellinger's considerable ring skills and dropped a unanimous decision for the first time in her fighting career.



against Olivia Gerula in 1998
On September 17, 1998 at the Grand Casino in Biloxi, Mississippi, Fredia got back on the winning track with a 6-round unanimous decision over the durable Olivia Gerula of Winnipeg, Canada.

Fredia Gibbs taking it to Hannah Fox
© Copyrighted photo taken by Mary Ann Owen
On January 15, 1999 at the Orleans in Las Vegas, Nevada, Fredia boxed and brawled her way to a six-round unanimous (57-56, 58-55, 59-54) decision over previously undefeated local favorite Hannah Fox (139 lbs). Fredia used her reach advantage, speed and punching power to keep Fox rattled and negate her trademark jab throughout the fight. Fredia knocked Fox down for a six count in the final round to put it beyond reach. The bout was shown live on ESPN2.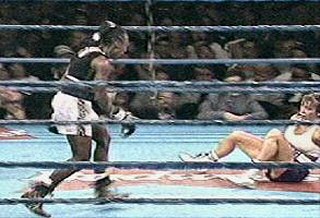 Fredia puts Hannah Fox on the canvas in Round 6
On June 8, 2001 at Hollywood Park Casino, Inglewood, California, Fredia returned to competition by winning a four-round unanimous decision over Susan Howard of Novato, California. Howard fell to 6-3 (2 KO) with the loss.
In an email sent to Lucia Rijker on June 3, 1999 and to boxing websites a few days later, Fredia told Lucia: "I am ready to compete against you now. I shared this with you when I was at your gym last and I will share this again in hopes that you and I will make this exciting fight happen. I have competed against the best world wide and in the sport of womens boxing you are considered the best --- I'm the only "Great Female Warrior" who will test you and beat you. I don't want to grow old wishing that we had competed against one another. Let's make this happen real soon. It's only a sport, let's have some real fun.... ". At this time, Rijker was said to be considering fighting male boxers, so Fredia's confident challenge became a hot topic in the world of women's boxing.

vs. Sumya Anani in 2001
On November 16, 2001 at the Convention Center in Austin, Texas, IFBA Intercontinental Junior Welterweight and IBA Lightweight champion and Christy Martin conqueror Sumya Anani of Shawnee, Kansas battled Fredia to an exciting ten-round majority draw (94-94,94-94,96-92 Anani) which left the 140-lb WIBA World title vacant. Anani and Gibbs traded throughout the fight, with Anani trying to confuse Gibbs by switching to a southpaw stance at times. Anani landed the better shots in the second round but Gibbs came back on the third and fourth behind her jab and hard rights to Anani's head. Anani worked inside and came back in the fifth but Gibbs continued to work her jab effectively in the sixth and seventh. Anani picked up her pace in the eighth and ninth but it was Gibbs who finished stronger in the final session. Anani moved to 18-1-1 (6 KOs).
Before the fight, Fredia had told WBAN's Brian Ackley: "Sumya is a good fighter, she's a warrior, she's tenacious, a very hard worker. My style is to hit and don't get hit. I won't go toe to toe -- that's not my style. She comes forward. She's a flat-footed fighter. But I feel she hasn't come up against a person like The Cheetah. I'm a technical genius. The world is going to see a brilliant performance from The Cheetah. When I fought Leah Mellinger, I felt they took it from me, but they will not take it from me this time."
On February 14, 2003 at Louisville Gardens in Louisville, Kentucky, Fredia weighed in at 140½ lbs and won a four-round unanimous (40-36,40-36,39-37) decision over unranked Kanicia Eley (147 lbs) of Norfolk, Virginia. Gibbs, now 39, looked slower and less well conditioned than she was at her peak, but still had enough speed and ring savvy to handle the taller and heavier Eley easily over four rounds. Despite her extensive amateur experience (she was 2001 National 139-lb USA Boxing national silver medalist) Eley wasn't able to use her height and weight advantage effectively as Gibbs threaded her defense with hard rights to the head and tied her up at close quarters. Gibbs opened up a little in the fourth round after a wrestling match in a corner, and caught Eley against the ropes with several hard shots to the head. Eley's chin was up to the task but she rarely had Gibbs in any danger. Eley fell to 3-4-0 (1 KO) with the loss.
On April 18, 2003 at Palace Indian Gaming Center in Lemoore, California, Sumya Anani (141 lbs) of Kansas City won by a TKO at the end of the first round over Fredia (140 lbs) when Gibbs was unable to answer the bell for the second round with an injury to her right hand. Gibbs was in obvious pain as her right glove was removed. The first round had been an ugly grabfest with Anani moving forward swinging looping punches with her head down while Gibbs grabbed on to her and worked her body. This was a disappointing end to the rematch following their exciting ten-round draw in 2001. Anani improved to 22-1-1 (9 KO), while Gibbs fell to 9-2-1 (2 KO).

vs. Anani in Texas
© Copyrighted photo taken by Sue TL Fox
Fredia is trained by Terry Claybon, the owner of the Hollywood Boxing Gym in Hollywood, California. She has also been a model and a screen actress, with a (mostly boxing action) role in the movie "Knockout" made by Hollywood's DMG Productions. Fredia played the in-the-ring villain Tanya 'Terminator' Tessaro in a script about an aspiring Latina boxer played by Sophia-Adella Hernandez. Asked which she liked more ... the world of boxing movies or that of real boxing, she says, "I enjoy them both, but the movie world is much more lucrative."
More information about and by Fredia Gibbs

To check out fight reports, complete up-to-date boxing records, with huge digital photos you can go to the WBAN Records Member Site
Page last updated: Friday November 06, 2015