Savanna Hill, born August 5, 1985, and has had many pro bouts in her boxing career. Hill told WBAN, "My husband, Brad Hill, is a pro boxer. He basically trains himself. He also trains kids around our neighborhood in Russellville, Arkansas."

Hill with husband, Brad Hill
"When I met Brad, I had no desire to box. I watched the grueling time he put in training and it seemed out of reach. He never asked me to start boxing. As I continued to see the passion and fun he had training the kids he trains, I kept getting more interested. I asked him one day if he would train me, and to my surprise he said sure," added Hill.

Hill began her training in December of 2005. Hill said that after about a month of training she said to him [her husband] that she wanted to make money at it, and fight professionally.

Hill said that he told her she was not ready, but being "stubborn" and "persistent", and after a lot of pleading...he said that he would book her to fight, and give her a "taste" of what it was like.

Hill's first fight was on February 2, 2006, where she fought Sandra Ortiz in Kansas City, Missouri. Hill said, "I went out and gave it all that I could only to end up with a bloody nose at the end of the 3rd round. I finished the fight, but lost to the more experienced Ortiz."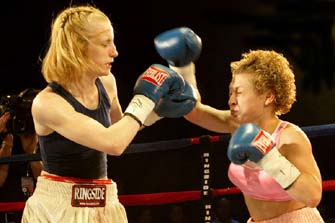 Hill fighting Shore. Photo by Alan Messick
Hill said, "After my first fight, I realized that I was in no kind of shape yet, so I got home with a new found desire to train harder and get better and that's what I did. About two weeks later, we got a call from Ortiz's manager asking if I would want to fill in as an opponent against Holly Shores because Sandra Ortiz backed out of it. Feeling better about myself physically and enjoying my new passion so much, I gladly accepted with my husband's approval. I fought Holly Shores on February 16, 2006, in Kansas City, Missouri. I totally underestimated her size and she dominated me the whole fight. I went the distance once again, only to lose by a unanimous decision."

Hill said that after that fight, when she and her husband returned home, that they evaluated the situation. Hill told her husband that she was still enjoying herself, and that she was enjoying the time on the road together.

Hill continued to train with her husband, and he continued to work with her on the basics. Hill said that after about a week, she was offered an opportunity to rematch with Sandra Ortiz. Hill said, "This fight was an eye-opener for me, because we truly felt like I had won this fight." Hill and her husband felt that it was a hometown decision, and that her husband said that they would not fight her [Ortiz] again in her hometown.

Hill said, "I had a lot of confidence coming out of this fight, because I finally saw that look of excitement in my husband's eyes for the first time because I had performed so well and had come so far in a month since my first fight."

Hill said that she was then offered a fight with Stephanie Dobbs on March 28, 2006, about two weeks after the Ortiz fight. Hill fought Dobbs in a five rounder, losing by a unanimous decision. Hill said that she knew Stephanie would be tough and had a lot of experience, but that her husband (Hill's husband) never counts her out. Hill said that she wanted to fight Stephanie and she knew that she was getting better, and felt that she had a chance.

"She was technically better than me and it showed. There were a lot of head butts, which I had never encountered before and I totally got off of my game plan. I finished the fight proudly and can say that I learned a lot from that fight" said Hill.

Hill said, "Now, 0-4, (never being stopped), and with my husband seeing the passion and heart that I started developing for this sport, he knew he had to make some choices. He chose to let another manager, Stacy Goodson, sign me. (signed both me and my husband) My husband knew that Stacy would get me the right fights at the right time to develop my career since I didn't have any amateur experience."

In Hill's fifth bout, on April 22, 2006, in Fort Smith, Arkansas, under her new management team, she fought against Kalea Crain. Hill stopped Crain in the third round. Hill said, "The ref stopped the fight in the 3rd round and as he waived the fight off, my husband climbed through the ropes (he is my cornerman as well as trainer) and lifted me over his head and literally had a tear running down his cheek. He was so happy to see me WIN after all we had been through over those two tough months of fights. I was so happy! "

Her next fight took place on May 6, 2006, in Oklahoma City, OK, against Nikki Verbeck. Verbeck was going into the fight with a 1-11 record, Hill 1-4. Hill said, " We fought and I easily made my way through the first three rounds working on things that my husband told me to. Between the 3rd and 4th round, Brad told me to turn it up and try taking her out. I turned it up like he said and midway through the last round, I put her head through the ropes with a straight right hand. The ref stopped the fight immediately. My husband nicknamed me "Lightning Bolt" because of my quick right hand. That is now my ring name."

Hill had two more pro bouts, winning both bouts over Natasha Wilburn and Louise Miller.

Hill has been training very hard to prepare herself to take on a very tough opponent, Carina Moreno on December 14, 2006, in Lemoore, California.