6'0" Sheree Nichole, a.k.a. Nikki "No Slack" Eplion, from South Point, Ohio was born on November 13 1978.
Nikki credits her brother Aaron for introducing her to boxing.
"He picked on me," she said,"we played basketball a lot. He knew how tough I was." Eplion took her name "No Slack" from the 2nd Battalion 327th Infantry Regiment of the 101st Airborne Division, in which her brother served. The unit earned the name during the Vietnam war for its "No Slack" attitude. Aaron's death in a car accident at age 19 inspired Eplion further. "We were very close growing up. I wanted to win (a world title) for him."
She won regional Toughwoman titles in Huntington, West Virginia in 1999, in Huntington again in January 2000 and in Portsmouth, Ohio a month later. "I was ready," she said. "I knew I had something. I needed the right people to teach me."
"Sheís a student of the game. She wants to learn," said Jeremy Bates, a pro fighter from Greenup, Kentucky who has helped to train Eplion. In December 2000 Eplion saw Bates make quick work of George Randolph in a heavyweight bout. "I loved it," she said. "It changed my life. I knew what I had to do."
Nikki fought in the 2002 Toughwoman World Championships at the Grand Casino in Gulfport, Mississipi. Eplion (168 lbs) battled Yvonne Laderach to a draw on the opening night of the 32-woman single-elimination competition, and both advanced to the next round. The next night, in front of a big live crowd and a PPV audience, Eplion defeated Katie Schneider and then Laderach to reach a semifinal showdown with 238-lb Becky Levi, a two-time runner-up in the contest. Levi kept smothering Eplion to prevent her her from mounting an offense but Eplion said she thought sheíd won the bout. One judge indeed had it in her favor by a 29-28 score ... but the others called it 29-28 and 30-29 for Levi, who won by a split decision (and went on to lose in the final to Leah "The Katz" Stuker). "I did enough to win. She just laid on me," Eplion said. "When they said split decision, I was mad. When they announced the decision, taking into consideration all the hard work I had put in ... I was devastated."
Eplion turned pro after this setback and says she is determined to box "as long as I can".
She made her pro boxing debut on April 20, 2002 at the High School Memorial Field House in Parkersburg, West Virginia, winning by a third-round TKO over another world Toughwoman graduate ... Gwen Wood of Glenn Easton, West Virginia. Wood was unable to continue after the second round of their scheduled heavyweight four-rounder.
On May 22, 2002 at Shakee's Lounge in Louisville, Kentucky, Nikki fought Liana Owens to a four-round draw. Owens was now 1-0-1 (0 KO).
On June 1, 2002 at the VFW Hall in Morgantown, West Virginia, Nikki won a four-round majority (38-38,39-38,39-37) decision over Christin Annie of Morgantown. Eplion took the fight to Annie for three rounds but Annie fought back in the fourth to keep it close on two of the scorecards. Annie fell to 1-1 (1 KO).
On June 11, 2002 at Mountaineer Racetrack and Casino in Chester, West Virginia, Nikki (160 lbs) fought Pittsburgh's Shadina Pennybaker (5'5", 155 lbs) to a four-round majority draw (38-38,38-38,39-37 for Eplion) on ESPN2 Tuesday Night Fights. Women's Boxing Page correspondent Craig Ogawa wrote "Not many punches connected as 6í0" southpaw Eplion and 5í5" right-hander Pennybaker had a hard time figuring out each otherís style. Pennybaker, filling in at the last minute for Sherry Huchber, did a good job negating Eplionís height advantage and kept her left hand out high to block right jabs. Her strongest moment seemed to come in the fourth when she came over with the left in succession three times to tag her opponent. Eplion, a four-time regional Toughwoman champion in only her third pro fight after making it to the semifinals of the World Toughwomanís Championship earlier this year, appeared to be overdoing it in trying to make use of her height and reach advantage ... targeting Pennybaker long-range at the very end of her extended reach with the result that her punches lacked force." Pennybaker progressed to 5-1-1 (2 KO), her only loss at the time being to Laila Ali.
On July 12, 2002 at Applebee's Park in Lexington, Kentucky, Nikki (170 lbs) won a four-round unanimous (40-36) decision over pro debut fighter Bonnie Mann (160 lbs) from Morrisville, North Carolina. (Mann later told me that her weight for this fight was really only 153 lbs.)
On December 28, 2002, Nikki won by a second-round TKO over Courtney Elliot of Cleveland, Ohio, who was making her pro debut.
On January 18, 2003 at Civic Arena in Huntington, West Virginia, Nikki won by a second-round KO over Carlette Ewell of Winston-Salem, North Carolina in scheduled six-round pro bout that was the main event of a card that also featured a Toughman contest. Former North Carolina Toughwoman champion Ewell fell to 2-1-0 (1 KO).
On March 29, 2003 at Jefferson Elementary Center in Parkersburg, West Virginia, Nikki again won by a TKO over Gwen Wood. Wood stayed on the stool after the first round, much like in their previous fight when she was unable to continue after the second round. Wood, 0-2 as a pro boxer, said that she had not been in the ring since she first fought Eplion, but took the fight because she needed the money. In a post-fight interview, Eplion told local TV that she "would have Laila Ali's belt by the end of the year" and would fight Ali for nothing to get it.
On April 6, 2003 at the VFW in Morgantown, West Virginia, Nikki won a first-round TKO over newcomer Christine Butch.
On June 13, 2003 at Joe Louis Arena in Detroit, Michigan, Nikki (167 lbs) won a four-round unanimous decision over Yvonne Reis (163 lbs) of Fort Lauderdale, Florida, who is trained by former IFBA world champion boxer and kickboxer Bonnie Canino. This bout was fought with three-minute rounds. Reis fell to 2-1-0 (0 KO). (Read also Behind the Scenes of this fight by Bonnie Canino).
On July 11, 2003 at Island Racetrack and Gaming Center, Wheeling, West Virginia, USA, Nikki weighed in at 156Ĺ lbs and won by a first-round TKO over Kitty Pugh of Southhaven, Mississippi. Eplion dazed Pugh early in the first round with a straight left. Then another straight left to the head and a left hook to the body had Pugh reeling at the bell sounded and she did not come out for the second round, due to what was thought to be a broken rib. Their fight was the co-main feature on the Friday Night Fights show. Pugh fell to 4-3-0 (3 KO) with her second loss in two weeks.
On August 22, 2003 at Ector County Coliseum in Odessa, Texas, Nikki (162 lbs) won an eight-round decision over former world champion Mary Ann Almager (168 lbs), who fell to 14-7-0 (9 KO). The win earned Nikki the Miller Lite Texas Middleweight title.
On December 6, 2003 at Veterans Memorial Field House in Huntington, West Virginia, 1100 fans gave Eplion a rousing ovation as she made her way to the ring and cheered her on as she repeatedly rocked Angela Hull of Cleveland, Ohio before the referee stopped the bout at 1:40 in the first round. The win earned Eplion the newly-formed Tri-State Boxing Association's middleweight title (the association was started by Ken Artrip, her manager). Eplion rocked Hull several times and earned a standing eight count before the fight was stopped. Although this was the headline professional bout on an otherwise amateur card, a report I received from ringside "[Hull] acted like she had never been in a ring before. When the referee gave her a standing eight count she was crying but said she wanted to continue. Eplion charged right by the referee as soon as he said 'box' and landed several power shots making Hull turn away and the referee had to stop it." Eplion improves her record to 11-0-2 (7 KO) with the win. Hull's boxing record was reported locally as 5-2, but this is the first pro fight that I am aware of for her.
The fight was the first for Eplion with Charlie Hanshaw as her trainer. "Another stepping stone," Hanshaw said after the fight. "The fans came to see a first-round knockout and they did," said Eplion.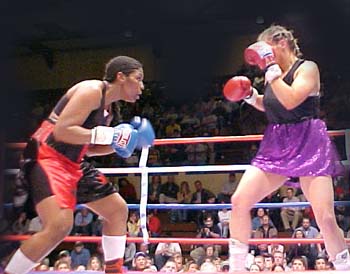 Robinson stalks Eplion in the WIBA title fight
© Copyrighted photo by WBAN Senior Editor Brian Ackley
It was a different story back at the same Huntington venue on February 28, 2004 when, in a rare world title battle between two undefeated female fighters, Leatitia Robinson (159 lbs) of Chicago, Illinois won the WIBA Middleweight title with a ten-round unanimous (98-92,97-94,99-91) decision over Nikki (160 lbs). Eplion was again cheered on by her home crowd, estimated at 1,000, but Robinson's ring skills, honed in a long 37-1 amateur career that included national and international chamionships, were more than she could overcome. Robinson constantly beat Eplion to the punch and also appeared to be in better condition for the long fight.
A ringside report said that Robinson "hammered Nikki from the left side and it was like when she was tired with that she hammered Nikki from the right. Nikki didn't have the endurance that Robinson had. From the stands it looked like Robinson was just having fun, she didn't look like she was working at all. Nikki on the other hand was shuffling around and couldn't react quickly enough. Robinson didn't sit there and wait for Nikki. Maybe that's why it looked like Nikki was only fighting with one hand, she never had a chance to throw the second punch. About the only thing Nikki had left was to keep hugging Robinson, that was annoying because we didn't get to see much continued punching for that reason." Robinson, already the IWBF middleweight champion, improved to 11-0-0 (8 KO) with this win while Eplion slipped to 11-1-2 (7 KO). (See Brian Ackley's full fight report and photos)
"It was devastating," Eplion said of her first pro loss. "I turned my cell phone off that night, went to a hotel and stayed the night. After that, the hardest thing was people questioning if I would continue to fight. I haven't stuck in it this long to give up my dream." Eplion has said she over-trained for the Robinson fight and felt "very run down" by the time she entered the ring. "Leatitia has a whole lot of skill and won the fight," Eplion said. "Even though I respect Laila Ali for all the attention she has brought to women's boxing, I think Robinson is a better quality fighter."
Ironically, Nikki's loss to Leatitia Robinson may have been the key that opened the door to a match with undefeated Laila Ali for the IBA Super Middleweight title. That fight was originally set for June 12, 2004 at the Mohegan Sun Resort Casino in Uncasville, Connecticut, but then was rescheduled to July 17. Eplion's manager Ken Artrip opined that the bout was rescheduled after southpaw Antonio Tarver surprised the boxing world by knocking out Roy Jones. As Eplion is also a southpaw, Artrip said that "Ali has gone to Buddy McGirt's camp to get additional training for a southpaw, that's what this is all about."
Eplion preferred not to discuss her purse for the Ali bout, but said it will be her biggest payout ever, and that her sons Kyle and Ryan often talked about the "big house and swimming pool" they could buy after she beat Ali. "This is not just a fight, itís my life," she says, "Iíve been training to do this since Day One. I do this because I love the sport and I want to establish a better lifestyle for my kids."
Eplion added that "I hope (Ali's) studying me from the Leatitia film because that was me at my worst. I hope sheís expecting that type of fighter. I think sheís underestimating me". Of Ali, Nikki said: "Sheís a good fighter, but I think Leatitia is 100 percent better." About the rescheduling: "I had a feeling something like this was going to happen. I don't want Laila to back out of this fight. Now I know it's because she was scared. I think she is avoiding a fight with Leatitia Robinson and Iím the only other quality fighter she can find."
Aliís promoter and husband, Johnny McClain, said that Eplionís size and her often-expressed wish to fight Ali made her a worthy opponent for Laila: "Sheís bigger and taller and that presents a whole new set of dynamics ... (Laila) faced some opponents that were big but they were lesser quality opponents."
The bout took place on July 17, 2004 at Prince Georges Stadium in Bowie, Maryland, and was televised live on Pay-Per-View. Laila Ali (167ľ lbs) successfully defended her IBA World Super Middleweight title by TKO'ing Nikki (167ĺ lbs) at 1:30 in the fourth round. Aliís boxing skills and aggressive style were too much for Eplion, who was game but could not compete with Ali's mobility and power, despite stating in the pre-fight press conference that "I don't think she [Ali] will have an answer for [my] big left hand." Eplion began the fight aggressively, trying to land with that left, but her plan apparently went out the window when Ali walked past her punches and began landing lead rights. Eplion began going backwards and was backed against the ropes and into corners as Ali picked up her pace and ramped up the pressure on her with the crowd chanting, ďAli, AliĒ. Eplion was knocked down four times in the third and fourth rounds and Ali was scoring hard right hands and short left uppercuts before referee Gary Camponeshi stopped the bout. Ali advanced to 17-0 (14 KO).
On March 12, 2005 at the Radisson Hotel in Huntington, West Virginia, 600 fans saw Eplion (177Ĺ lbs) win a six-round unanimous (59-55,58-56,58-56) decision over Nigerian-born Ijeoma Egbunine (175 lbs) of Marietta, Georgia. "I knew it would be rough. Iím going to have to take this kind of fight," said Eplion, "I knew I had every round. I showed heart." Eplion was fighting for the first time under her former trainer Corky Salyer, from whom she had split in 2003. Egbunine's trainer Henry Okafor disagreed with the decision, saying that Eplion "never threw any punches". Egbunine fell to 2-1 (1 KO).
On May 27, 2005 at Big Sandy Superstore Arena in Huntington, West Virginia, Kathy Rivers from Hollywood, Florida won a ten-round unanimous decision over Nikki for the IBA Americas female Cruiserweight Title. The fight was the co-main event on the 11-bout Tri-State Showcase of Champions card. The Huntington Herald-Dispatch reported that Eplion controlled the action in the first two rounds but Rivers took over at that point, doing most of the damage with Eplion on the ropes, and dropped the Ohio southpaw several times. Overall, Eplion took nine standing 8-counts. Rivers had been 0-2-2 in action in fights in hometowns of her opponents in the last four outings. "I had to feel her out," Rivers said while admiring the championship belt around her waist. "Thatís what itís all about. The third round, my trainer (Bert Rodriguez) said go to work." Eplion fell to 12-3-2 (7 KOs) while Rivers improved to 14-5-2 (5 KOs).

Nikki says she brings her sons to the gym at times, but not to her boxing shows. "When I get into the ring, Iím ready to kill somebody. Iím a totally different person."
To check out fight reports, complete up-to-date boxing records, with huge digital photos you can go to the WBAN Records Member Site
Other Nikki Eplion links
Page last updated: Friday November 06, 2015