(JULY 4) On Saturday night, International Boxing Federation (IBF) Flyweight Champion, Ava "The Lady of Boxing" Knight made her second successful title defense, defeating Susana "Toluquita" Vazquez by unanimous decision at the Auditorio Centenario. The three judges sitting at ringside scored the bout 99-91, 98-92, and 98-92, all in favor of Knight. Knight's record improved to 9-1-3, with 5 KOs, and Vazquez saw her record fall to 8-7-1, with 3 KOs.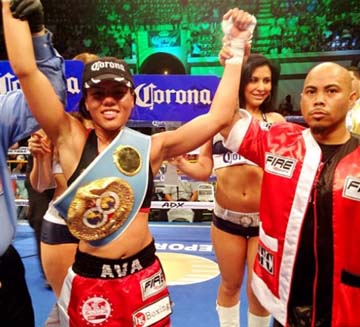 Knight talked about her fight against Vazquez. She said, "Susana was a very tough fighter. I thought she was aggressive and she moved around well. She tried to pull me into a brawl during the fight, but my jabs and outside punches proved to be successful. She did a good job in taking a lot of good, solid shots. Our fight was full of action."

Ben Bautista, Knight's trainer and manager, said, "I felt Ava did what she had to do to win the fight. We knew we had the reach, speed and power advantages, and "the stick" was going to be the key to the fight and she was able to use "the stick" effectively to set up her punches and keep her opponent off of her. I did see why Susana was a tough opponent for Arely [Mucino] and Mariana [Juarez]. She is very durable and has a tough chin. Susana is not going out without a fight. I thought Ava dominated the fight. I did think two of the judges were being generous by awarding Susana two rounds.

With the win, Knight looks ahead to her next challenge as a champion. She said, "I have now made 2 successful title defenses in the flyweight division. Hopefully, I'll get in the ring with another strong opponent to test my skill and will. I only want to be in the ring with people I can learn from."
Coach Bautista agreed with Knight, but understands that she is still developing as a boxer.
He said, "Ava is still a work in progress. Rome wasn't torn down in a day and it sure wasn't rebuilt in a day. It's going to take time to put together a complete package. We will go back to the gym to work on areas we need to improve in her game, and she will continue to get better, because she also sees what needs to be polished. She did show improvement in this fight. I was really impressed by how she used her jab as her offense and defense."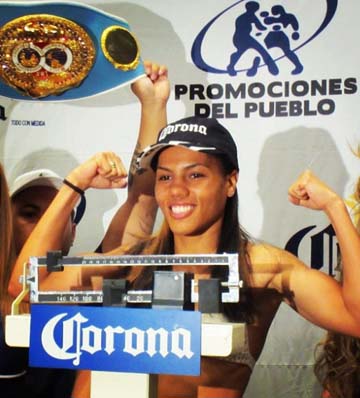 Bautista then went on to share a glimpse of Team Knight's future plans. He said, "We still want to fight the best in the flyweight division and compete for all the titles. The biggest fight for Ava would be her rematch against Ana Marie Torres, but Ana is pregnant, so our plans to fight her change a bit. We just have to wait until she returns to the boxing ring. We know that many fans want to see Ava versus Melissa McMorrow, since they both hold titles in the same weight division and are training in the Bay Area. Before that can happen, McMorrow must first rematch Susi Kentikian. We would like to fight Mariana Juarez next, then after that, we can fight the winner of McMorrow versus Kentikian."

Knight thanked her fans and the media for all their coverage. She said, "I just want to thank all of the my fans for their kind words and thank the media for putting out articles in support of myself and women's boxing. I only hope to recover to bring better fights and more action to the sport." Bautista added, "We would like to acknowledge SFC Boxing Gym and HG Promotions. We would also like to thank our sponsors, Muscle Milk, Nike, and Fire apparel."

Ava Knight was born and raised in Chico, California, where her boxing training began at the age of thirteen. Knight had a stellar amateur career, which included wins over the 110 lb. Golden Gloves Champion and the National P.A.L. 114 lb. champion (twice) in 2006. She won the flyweight silver medal at the 2006 National Amateur Championships and was also a two-time San Francisco Golden Gloves titlist. Her amateur career record was an impressive 28-4.
Knight, a 23-year old of Polish and African-American descent, trains at the SFC (Straight Forward Club) Boxing Gym in San Francisco, California. On October 29, 2011, Knight won the IBF Flyweight Title by defeating the undefeated Mexican champion, Arely Mucino via a second round knockout. Prior to the fight against Vazquez, Knight made her first successful IBF Flyweight title defense on March 31, 2012, in a ten round TKO win against Thailand's Hongfah Tor Buamas.

More on Ava Knight, WBAN named Knight our July 2012 Fighter of the month. Full Story