5'5" junior middleweight Shadina Pennybaker from Pittsburgh was born on March 26, 1971. She says that as a child she idolized Muhammad Ali and dreamed of becoming a boxer. ''Watching him knock people out, that excites me,'' she said. ''The art that he had and the way that he did it, it made me want to be a fighter. And the way he talks garbage, it's exciting.''
So it was ironic that Shadina made her own pro boxing debut on November 10, 1999 against Ali's own daughter.
Shadina had got her boxing start in the local Golden Gloves in 1999. She had three amateur bouts, compiling a 2-1 record, before she agreed to fight Laila Ali (5'10", 166 lbs) before about 2,000 fans at the Mountaineer Race Track and Gaming Resort in Chester, West Virginia in her own pro debut.
In the first round, Ali taunted her and shook her head when Pennybaker landed a punch. "I was telling her her punches weren't hurting. That's one of the things I was saying," Ali said afterwards, but before the fight was over, Shadina had left a mouse under Ali's right eye (which Ali later attributed to her "sensitive skin"). Ali also bloodied Shadina in a furiously fought fourth round and forced a standing eight count with a series of blows to Pennybaker's head. A flurry of left-right combinations then sent Pennybaker reeling into a corner, prompting the referee to stop the fight with just three seconds left to protests from Pennybaker's team. (See also the ringside report by a Women's Boxing Page correspondent.)
Pennybaker felt that she hadn't shown her true form in her pro debut because she had agreed to it at such short notice. "I fight better than that," she said, "I only had 10 days to get ready for this fight and lose 10 lbs. I had been out of the gym for a year so I was out of shape and I really didn't have enough time to get ready. I was tired. She was a hard hitter, but I know I hit just as hard, if not harder. But it was hard for me to get to her head. I was mad they stopped the fight,". She also admitted "My legs were really tired. I was exhausted."
Her view of Ali after the fight? "Ali has some power, middle skills, but very little heart. She doesn't like to get hit so she closes her eyes and turns her head."
One judge awarded Pennybaker the second round but Pennybaker understood before the fight that ''In order to win, I know I'll have to knock her out or beat her half to death."
On March 22, 2001 Pittsburgh, Pennsylvania, Shadina (161 lbs) returned to the ring and TKO'd Yolanda Blackmer (156 lbs) at 0:40 in the first round of a super-middleweight bout.
On April 20, 2001 at the Pepsi-Cola Roadhouse in Burgettstown, Pennyslvania, Shadina (162 lbs) knocked out Alicia Sparks (154 lb) at 0:40 in the second round of a scheduled four-round bout. Pennybaker knocked Sparks down in the second and Sparks got up on the eight count, but about 20 seconds later, Pennybaker finished Sparks off. Sparks fell to 1-8.
On June 23, 2001 at Pepsi Roadhouse in Burgettstown, Pennsylvania, Shadina (157 lbs) won a clear four-round unanimous (39-36,40-35,40-35) decision over former Toughwoman competitor Leona Tanner (151½ lbs) of Weirton, West Virginia, who was making her own pro debut. Pennybaker's boxing experience showed as she used her double jab and a hard right to keep Tanner on defense for most of the fight. Tanner was also decked for an eight count by a right in the final round.
On April 13, 2002 at Mountaineer Race Track in Chester, West Virginia, Shadina advanced to 4-1-0 (2 KO) with a four-round split (39-37,37-39,39-37) decision over Bonnie Wherry of Cleveland, Ohio in a welterweight bout. Wherry fell to 2-3-0 (1 KO).
On May 24, 2002 at Gray's Armory in Cleveland, Ohio, Shadina (147 lbs) won a four-round unanimous (40-36,40-36,39-37) decision over Sabrina Hall (149 lbs) of Cleveland, who fell to 11-3-1 (4 KO's).
On June 11, 2002 at the Mountaineer Racetrack and Casino in Chester, West Nikki Eplion (6'0", 160 lbs) from Southpoint, Ohio fought Shadina (155 lbs) to a four-round majority draw (38-38,38-38,39-37 for Eplion) on ESPN2 Tuesday Night Fights. Women's Boxing Page correspondent Craig Ogawa wrote: "Not many punches connected as 6'0" southpaw Eplion and 5'5" right-hander Pennybaker had a hard time figuring out each other's style. Pennybaker, filling in at the last minute for Sherry Huchber, did a good job negating Eplion's height advantage and kept her left hand out high to block right jabs. Her strongest moment seemed to come in the fourth when she came over with the left in succession three times to tag her opponent. Eplion, a four-time regional Toughwoman champion in only her third pro fight after making it to the semifinals of the World Toughwoman's Championship earlier this year, appeared to be overdoing it in trying to make use of her height and reach advantage ... targeting Pennybaker long-range at the very end of her extended reach with the result that her punches lacked force." The referee also took two points away from Eplion during the third round for holding and punching, basically costing her the win on the scorecards. Eplion, who was fighting her second bout in ten days, was now 2-0-2 (1 KO) as a pro boxer while Pennybaker was 5-1-1 (2 KO).
On September 28, 2002 in David Lawrence Center in Pittsburgh, Pennsylvania, Shadina (148 lbs) won a four-round unanimous (39-37,40-36,40-36) decision over Liana Owens (157 lbs) of Kentucky. WBAN's insider said that it was a very good fight and that Owens had a good chin. Pennybaker improved to 6-1-1 (2 KO) while Owens fell to 1-1-1 (0 KO).
On December 6, 2002 at Gund Arena in Cleveland, Ohio, Shadina (155 lbs) won a four-round unanimous decision in a rematch with Sabrina Hall (155½ lbs) of Cleveland. My correspondent wrote: "In what was a closer fight than their first meeting, the results were the same. Hall used her one-dimensional rushing and swing attack with Pennybaker attempting to counterpunch. When Hall did get close she would push Pennybaker back to the ropes and try to pin her there with her weight, feet behind her and upper body leaning into her. Unfortunately this also smothered and effectively nullified her punches. Pennybaker was able to land many good, hard shots from outside and avoid some of the rushes. In the first meeting she was more effective in side stepping or turning Hall back when they reached the ropes which resulted in Hall running into the ropes and being constantly off balance and missing punches by a large margin. In this fight Pennybaker did not seem to want to or was unable to side step or turn Hall's rushes as easily. The greater weight may have been a factor but she was able to nullify most of Hall's punches or Hall nullified her own by smothering them. Pennybaker landed more and harder punches to win the decision. Neither fighter appeared hurt at any point." Pennybaker improved to 7-1-1 (2 KO) while Hall slipped to 11-4-1 (4 KO)
On June 5, 2003 at State Theater in Detroit, Michigan, Mary Jo Sanders (141 lbs) of Detroit won a clear unanimous (40-35,40-35,40-35) unanimous decision over Shadina (142 lbs). Sanders had a clear edge in speed and power, and staggered the more experienced Pennybaker several times on the way to a convincing decision. Sanders was now 3-0-0 (1 KO), while Pennybaker, fighting at her lightest ever, fell to 7-2-1 (2 KO).
On July 1, 2003 at Cafaro Field in Niles, Ohio, Mary Jo Sanders (140½ lbs) won a hard fought four round majority (38-38,39-37,40-36) decision over Shadina (144½ lbs) in a rematch of their bout three weeks earlier. Sanders advanced to 4-0-0 (1 KO) with her second straight close decision over Pennybaker.
On December 4, 2003 at the Days Inn in Allentown, Pennsylvania, Monica Nunez (152 lbs) raised her record to 7-1-0 (4 KO) when she stopped Shadina (147 lbs) at 1:23 seconds of the second round of a scheduled six-rounder. Shadina came out very strong and fast in the first round, but then was tagged with a couple of perfect left hooks. The second hook was a devastating one that dropped Shadina to the canvas. Shadina kept trying to fight ater that but she never recovered fully and the referee stopped the bout. Pennybaker fell to 7-4-1 (2 KO).
On April 24, 2004 at the Convention Centre in in Winnipeg, Manitoba, Canada, Shadina (151 lbs) defeated Jo-Anne Brooks (152 lbs) of Winnipeg with a six-round split (58-56 Brooks, 60-54 and 58-56 Pennybaker) decision. Pennymaker boxed patiently but finished strongly and her power shots convinced the judges to award her a split decision over a previously undefeated home towner. Canadian Pro Boxing Scene described Shadina's win as follows: "Pennybaker, fighting like a female James Toney, with hands held low, twisting and turning at the waist, caught Brooks with a good left hook in the opening seconds of round one that set the tone for the entire fight. Brooks was rocked again by a left hook in the second round, but was able to get home her own thunder in the form of a big right hand to win the third. The fourth round was fought on even terms, with each gal landing good shots. Pennybaker, whose pace slowed in the middle rounds, took charge again in the final two stanzas, rocking Brooks with good left hooks. The fight was scored a split decision on the official cards: CPBScene scored it: 4 rounds Pennybaker, 1 round Brooks, 1 round even, 59-56 Pennybaker." Brooks fell to 5-1-0 (2 KO).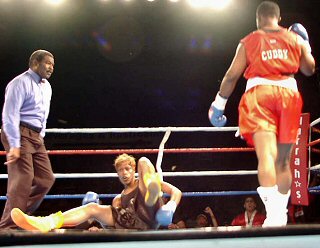 Daria Hill on the canvas vs. Pennybaker

On October 8, 2005 in an outdoor amphitheater at Harrah's in Laughlin, Nevada, Shadina won a six-round unanimous (57-55,56-55,56-55) over Daria Hill of Philadelphia, Pennsylvania. This was described by WBAN's Sue TL Fox as "an outright war" in which both fighters not only displayed great skill, but very good sportsmanship. Hill fell to 3-2-0 (3 KOs) while Pennybaker moved to 9-4-1 (2 KOs).

Shadina vs. Holly Holm in February 2006
© Copyrighted photo by Tom Hernandez
courtesy of NewMexicoSportsNews.com
On February 24, 2006 at the Isleta Casino near Albuquerque, New Mexico, local favorite Holly Holm (5'8", 139 lbs) TKO'd Shadina (138½ lbs) in the seventh round defending her IBA Junior Welterweight title. According to Chris Cozzone of New Mexico Boxing: "Holm won the first several rounds at a distance jabbing, but the fight started to heat up in the fourth with a questionable knockdown of Pennybaker. The challenger took the fight to Holm in the fifth, but Holm willingly traded and started to make the fight one-sided from the sixth on. After two cuts near Pennybaker's eyes, opened by head-butts in the second and seventh, started to pour blood in the seventh, the fight was stopped at 0:57 and the TKO win awarded to Holm, who had a near-shutout tally on the scorecards." Holm improved her record to 13-1-2 (5 KOs) with the win while Pennybaker slipped to 9-5-1 (2 KOs).
Shadina was upset by the head-butts that she received during the fight. "She was hitting me with two fists and a big-ass head," she said. "I've never been hit and cut in my head and face from headbutts like that in my life. That was ridiculous. It was, `What the Hell? What's with the head thing?' Every time I wanted to throw a punch, I'd get hit with her head. She'd lead with the head. I'm so upset."

Shadina vs. Layla McCarter in June 2006
Photo courtesy Luis Tapia
On June 24, 2006 at the Sky Ute Casino in Ignacio, Colorado, Layla McCarter of Las Vegas won by a fifth round stoppage (TKO) when Shadina was unable to come out for the sixth round, retiring at the end of the fifth. According to a fight report by Chris Cozzone, McCarter was too fast and skillful for the larger Pennybaker after the first round. As the fight progressed McCarter picked her spots, landing fast combinations on Pennybaker who could not land anything solid. In the fifth, McCarter brawled with Pennybaker, driving her back at the end of the round. Pennybaker attributed her retiring to the several accidental headbutts that damaged the inside of her mouth. "We were clashing heads a lot," McCarter admitted. "But I think my punches and my experience was getting to her." See Photo Gallery #367 on the WBAN Records Member Site for more photos. Layla improved to 20-12-4 (3 KOs) with the win while Pennybaker fell to 9-6-1 (2 KOs).
Shadina is trained by Jimmy Cvetic and managed by Willie Edwards.
Other Shadina Pennybaker links
To check out fight reports, complete up-to-date boxing records, with huge digital photos you can go to the WBAN Records Member Site
Page last updated: Friday, 06 November 2015