First Mixed match between a Professional male and female boxer in the State of Washington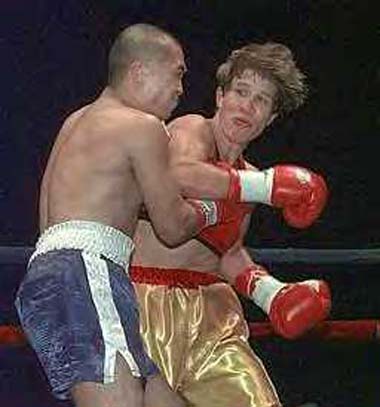 This was the first exhibition mixed match between professional boxers, Margaret MacGregor, from Bremerton, Washington, and Loi Chow, from British Columbia, Canada that took place in the State of Washington.
The mixed match caught International attention and controversy that received high-profile coverage. The way this fight was put together started over two years ago after the main event that was featured on this bout, Martin O'Malley had had a couple of pro fights, and his manager, Bob Jarvis, and longtime Seattle boxing promoter Jim Rupp, were thinking of ways to get O'Malley similar attention to that of some of his amateur foes who started their pro careers earlier.
Several of the fighters against whom O'Malley competed for amateur honors-among them Floyd Mayweather, Augie Sanchez, and Radford Beasley, to name just a few- had gone on to the pros and quickly made names for themselves.
O'Malley was just as good, if not better, than those fighters, Jarvis and Rupp thought: what can be done to help O'Malley catch up with the pack?
So on one occasion Rupp contacted Jarvis and told him that he had an idea on how to get Martin International attention. He suggested that they get O'Malley a fight with Christy Martin. She was known, a top fighter and had many fights to her name. O'Malley had only two pro fights under his belt and was fighting four-rounders. They felt that how could anybody think it was a mismatch with O'Malley in favor.
There was no doubt in Jarvis' or Rupp's mind, of course, that it would be an easy O'Malley win. But, moreover, the first male vs female bout in history would attract more attention for O'Malley than any other young fighter in the world. Jarvis loved the idea, but felt that Martin "O'Malley" would not go for it. He even felt slightly embarrassed suggesting that he fight a woman.
And, even though that ended serious consideration of trying to put something like that together involving O'Malley, Jarvis nonetheless sent a telegram to promoter Don King, who controlled Christy Martin at the time, challenging her to a bout with O'Malley. They felt that if Don King responded to their telegram that the publicity would be worth something for O'Malley.
Don King never responded, but the idea was born from that day forward. Today, reports indicate that both King and rival promoter Bob Arum are interested in arranging their own male vs. female bouts. (Lucia Rijker Rolling Stone Magazine)
As time went by, O'Malley piled up win after win.His first two main events were fought at Edmonds Community College, promoted by O'Malley's brother, Tom O'Malley, assisted by Jarvis and Rupp.
Jarvis and Rupp continued to bat the idea of male vs. female around, off and on, since the idea was first hatched two years ago.
Then, about in September of 1999, Jarvis called Rupp and said, "I think I've got a man boxer and a woman boxer who are more than willing to fight each other. What do you think?"
The answer was obvious: "let's do it!", Rupp said. Approval from the Department of Licensing was the only thing that really stood in the way of the bout; to the department's immense credit, they never hesitated.
And so, Margaret MacGregor of Bremerton, Washington was signed to meet Hector Morales of Vancouver, B.C. Except just a few days after a heavily-attended press conference announcing the fight, Morales had second thoughts, citing "personal reasons." Jarvis didn't blame him, and ultimately Loi Chow, Morales' trainer stepped in to be his
So, Morales' trainer, Loi Chow, offered to step in as a replacement. Chow had pro boxing experience and was also Morales' trainer.

The fight ultimately took place as the last fight on the card, October 9, 1999, and another History First was born.
HISTORY FIRSTS - PAGE ONE
HISTORY FIRSTS - PAGE TWO
Documented by Newspaper articles;
Video'd the fight; Photographs
October 9, 1999
Fighters - Margaret MacGregor-Female
Loi Chow- Male
MORE HISTORY'S FIRST